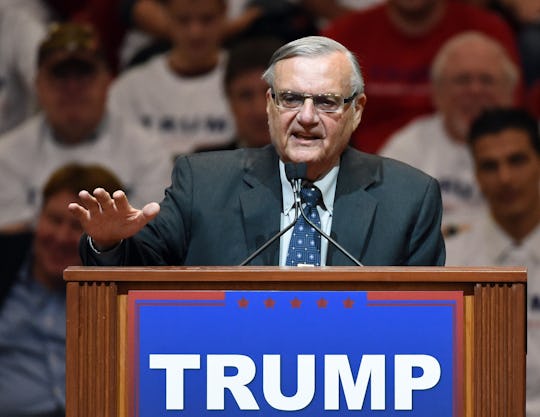 Ethan Miller/Getty Images News/Getty Images
Here's What Joe Arpaio Did As A Sheriff
President Donald Trump is full of surprises. On Friday evening, while most people were getting ready to enjoy themselves and their weekend, Trump pulled a fast one and pardoned former Arizona sheriff Joe Arpaio. Arpaio's name is one that has been prominent in the news lately, but what did Joe Arpaio do, exactly? Arpaio was convicted of criminal contempt — violating a court order in a racial profiling case, continuing patrols that targeted immigrants, according to CNN.
Arpaio has called himself "America's toughest sheriff" and it is for a reason. The 85 year old's actions almost led him to spend up to six months behind bars for a misdemeanor, according to CNN, before Trump pardoned him on Friday.
Still, this doesn't tell you much about what Arpaio did as a sheriff, so here is the rundown. Arpaio's actions as an Arizona sheriff began in 2007, according to CNN, when lawsuits were filed against Arpaio, claiming his policing policies "amounted to racial discrimination." In 2011, Arpaio was barred from detaining people based on their immigration status, and in 2016, criminal contempt charges were filed against Arpaio, claiming he had disregarded the court's directions. Finally, just this year, Arpaio was convicted of criminal contempt.
His defiance of orders led him to his conviction. "Not only did (Arpaio) abdicate responsibility, he announced to the world that he was going to continue business as usual no matter who said otherwise," United States District Court Judge Susan Bolton wrote of his conviction in court papers.
It was found that Arpaio was holding individuals and stopping them in his home state of Arizona under the belief that they were in the country illegally, according to USA Today, taking people into custody not because they were breaking the law. Once the individuals were in custody, deputies would turn them over to ICE agents or border patrol, who would proceed in deporting them. This is why Arpaio has been accused, and found guilty of, violating a court order for him to stop racial profiling.
Arpaio is also known for his harsh treatment of criminals, according to New York Magazine, and running an outdoor jail called Tent City where pre-trial detainees were held in "unbearably hot conditions," forced to wear pink underwear and non-English speakers were put into solitary confinement for not speaking English, according to The New York Times. Words can't even begin to describe how horrifying this is.
In 2011, the Associated Press found that Arpaio's office reportedly ignored hundreds of sex crime cases and cases of alleged child abuse, according to the American Civil Liberties Union.
Yet, a statement released by the White House on Friday evening disregards and pardons Arpaio for his wrongdoing. "Arpaio's life and career, which began at the age of 18 after he enlisted in the military after the outbreak of the Korean War, exemplifies selfless public service," the statement said.
Arpaio was a proud and outspoken Trump supporter and during a rally on Tuesday, Trump teased that he would pardon the sheriff. On Friday, Trump made that a reality.