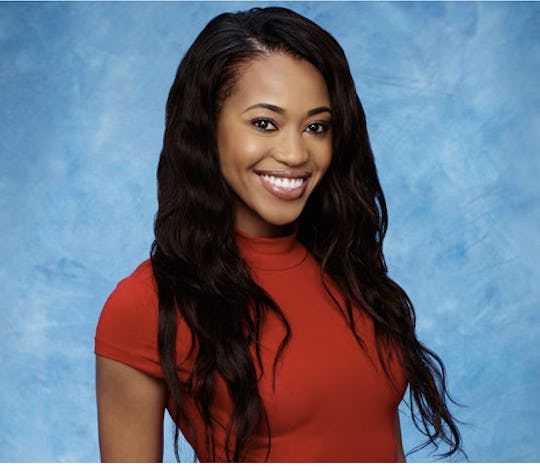 What Did Jubilee Sharpe Do In The Army? The 'Bachelor' Contestant Is Pretty Impressive
When the first episode of The Bachelor aired, one contestant vying for the Ben Higgins' heart stood out for a very impressive item on her C.V.: war veteran. So what did Jubilee Sharpe do in the army? On active military duty for over four years, Sharpe was deployed in in Afghanistan for a year, serving in Helmand Province, reported Yahoo Style. She joined the army at the age of 18 but said during the premiere that she was more nervous to meet Ben than when she enlisted. If that doesn't say something about the current state of dating, I don't know what does.
But on to how badass Sharpe is. First, her name is Jubilee. That name alone makes me want to date her. I mean, she already sounds like a ton of fun. It also doesn't hurt that the war veteran is now a model, meaning she's kinda easy on the eyes. Actually, she's stunning. (I admit I scroll through the social media of Bachelor contestants. But, um, that's my job, k?)
And so far, Sharpe seems like the kind of woman who really goes for what she wants. When asked why she wanted to join the show, she said, "It's my way of getting out there, dating, doing something, you know? I always loved the show, and the men on there, for the most part, were pretty well-rounded guys." Some ladies would create a Match account, but Sharpe goes all in and looks for love on the most popular TV dating show.
Being in the military definitely impacted her fashion sense, as Sharpe told Yahoo Style she'd "rather be comfortable than cute." So you're likely to see her in low-key outfits on the show, especially because her luggage broke just before she left to film The Bachelor. As a result, she said, she had to pack all her outfits in her army duffel bags. Here she is posting on Instagram from training camp with her squad, decked out in camo.
But there's more to Sharpe than her military past. In her contestant biography she wrote that sunflowers are her favorite flower because "they are so simple (just two colors) yet so beautiful. I think they are a great metaphor for life."
Before she began filming, Sharpe was a student of cardiac sonography technology in Fort Lauderdale, Fla. I guess I'm not being subtle in my admiration for her. But will Ben share my sentiments? Come, on, Higgins, keep giving this sunflower a rose, will ya?
Images: ABC; jubilee1991/Instagram (1); Giphy (1)