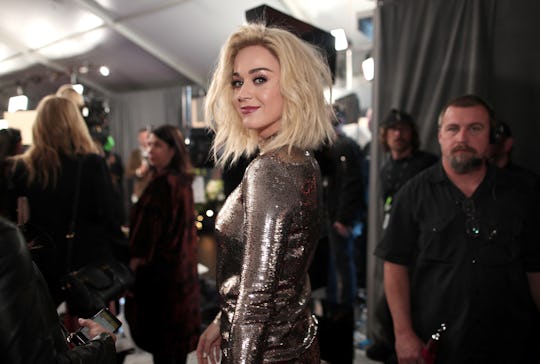 Christopher Polk/Getty Images Entertainment/Getty Images
Find Out Why Katy Perry Was Bleeped At The Grammys
Katy Perry has never been one to hold back — and she certainly didn't on the 2017 Grammys red carpet. In a one-on-one pre-show interview on the carpet, Katy Perry talked about her return to music after taking time off to take care of her mental health. But what did Katy Perry say during her 2017 Grammys interview when she was bleeped out? I'll give you a few guesses, but I guarantee you'll only need one. Perry talked to E! host Ryan Seacrest at length about her new music as well as her desire for music to help people better listen and understand each other. Coming out of the crosshairs of a year as volatile as 2016 was, Perry's plea to fans and fans of music makes perfect sense.
When the conversation pivoted to Perry's new music and her upcoming album, Perry talked about how she feels at this point in her life. When Seacrest asked about the album, Perry said:
I just feel a little bit more conscious than I ever have. I kind of worked out some of my sh*t...
Which is, unsurprisingly, when she was bleeped out. But Perry didn't notice the slip-up in the moment, and so she continued, even though Seacrest cut her off and said, "Whoa... worldwide audience!" Perry then apologized: "Oh, sorry! I'm live!" She then added that though she's been on a personal journey, it hasn't stopped her from swearing.
Talking about the reaction to "Chained To The Rhythm," which is Perry's first new song to hit the airwaves in a while, Perry talked about the song being significant for its significance. Calling this time in her life an "era of purposeful pop," Perry said of the song:
I think, you know, people are loving it; they're dancing to it; they're reading the lyrics; they're ingesting it; they're like, being revived; maybe they're waking up a little bit. I don't know, you know? Otherwise, they're just dancing to the thick, fat beat.
Talking specifically about the lyrics in the song, Perry then continued:
You know me, my songs have always had layers to them — never, you know, one-dimensional — and I think I used to be the queen of innuendo, and I, um, woke up a little bit more and educated myself a little bit more, but obviously don't know all of the answers, and maybe I am a little more the queen of subtext. But I think it's just a song that starts conversations, and I think that's what we need more than ever is... there's so much divisiveness and people on one side or the other, and I think we just need to listen to each other.
Even though Perry was rightfully bleeped for cursing on air, it looks like we're segueing into a new era of Perry — and to be honest, I'm here for it.