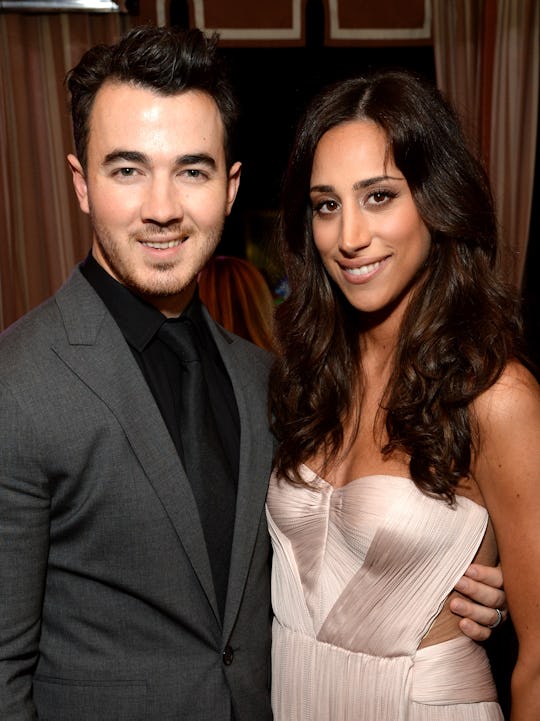 Michael Kovac/Getty Images Entertainment/Getty Images
What Did Kevin & Danielle Jonas Name Their Baby? It's Beautifully Classic
The oldest Jonas Brother has growing brood of darling daughters, now that Danielle Jonas has just given birth to her second child with husband Kevin Jonas. The exciting news has many fans wondering what Kevin and Danielle Jonas named their newborn baby and how the parents are doing. While fans knew that the newest Jonas baby would be a girl (given that the pair posted an adorable gender reveal on Instagram earlier this year), the musician has said before that the proud parents have had no trouble deciding on names for their daughters.
As People reported, Danielle and Kevin welcomed Valentina Angelina Jonas to the world on Thursday, Oct. 27. "We are so excited to welcome our new baby girl, Valentina Angelina Jonas to the world today," the pair said in a statement through their reps, according to People. "She is healthy and beautiful and we couldn't be happier!"
The statement continued that the parents' first daughter, 2-year-old Alena Rose, "already can't wait for Valentina to come home and start being a big sister."
Even before Danielle and Kevin could share the news, Nick Jonas had already shared an adorable announcement on Instagram while filming Jumanji in Hawaii. "AHH! I'm an uncle again!" the 24-year-old musician wrote on Thursday. "Congrats to my brother and sister in law on the birth of their new beautiful baby girl," he wrote earlier this afternoon."
In a Tweet that seems to have been posted just before or while Danielle was in labor, Kevin wrote on Thursday morning: "Can't believe we're gonna have 2 baby's [sic]."
Around the same time, Danielle also posted this photo of Kevin having a bite to eat while she had some Italian ice in the delivery room:
Back in April, the new parents announced to their fans that they were expecting their second child together in an hilarious post on social media, which was a picture picture of themselves sitting on their bed and was captioned, "preparing for baby number 2."
In the photo, Kevin is holding a copy of What to Expect When You're Expecting with a perplexed look on his face and Danielle is surrounded by super-sized bags and boxes of goodies to satisfy every pregnancy craving.
It was obvious that the growing family, along with their entire fan base, was beyond excited for their new addition. At the time, according to E! News, their rep released the following statement on their behalf:
We are excited to share the news that we are expecting a new addition to our family this winter. Alena is beyond thrilled to be a big sister and we can't wait to meet the newest member of our family.
The world is still waiting to catch a glimpse of baby Valentina, but in the meantime, it's a safe bet that this new little "Lovebug" will be surrounded by plenty of love.