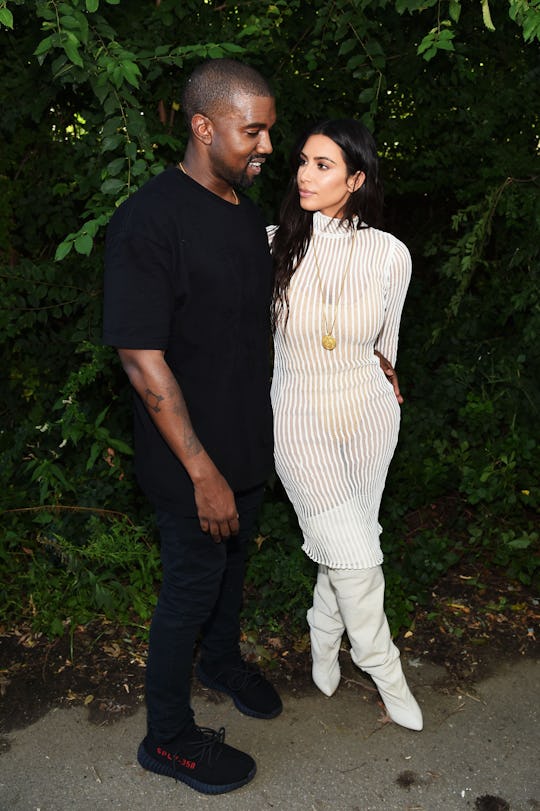 Jamie McCarthy/Getty Images Entertainment/Getty Images
Kim & Kanye's 3rd Baby's Name Will Totally Be Creative & Unique
We're just a month into 2018, and it's already been an incredibly busy year for the Kardashian family, in both their personal and private lives. Throughout the last year, the Kardashians had seen breakups, (a lot of) makeup, and pregnancies. Last year, Kim Kardashian announced that she was expecting her third child through a surrogate, and on Monday, Jan. 15, her surrogate finally gave birth. If you're wondering what Kim Kardashian named her new daughter, fans will have to wait a little while longer for another official announcement from the new parents. But considering the creative names they've chosen for their first two children, it'll totally be a unique and amazing name.
Update: On Friday, Kim Kardashian revealed that she and Kanye West named their new daughter Chicago West.
Earlier: "Kanye and I are happy to announce the arrival of our healthy, beautiful baby girl," Kardashian announced on her app Tuesday, according to E! News. "We are incredibly grateful to our surrogate who made our dreams come true with the greatest gift one could give and to our wonderful doctors and nurses for their special care. North and Saint are especially thrilled to welcome their baby sister."
Kardashian and husband, Kanye West's unnamed surrogate gave birth to "a healthy, beautiful baby girl," weighing in 7 lbs., 6 oz., Kardashian revealed on her app, according to E! News.
While Kardashian's sisters, Khloé Kardashian and Kylie Jenner, might have gained more attention for their pregnancies (one confirmed and one still rumored) in 2017, this news could not be any more exciting for Kardashian fans who knew how badly Kardashian had wanted another sibling for daughter, North, and son, Saint West. Although they've yet to reveal their third child's name, it'll absolutely be gorgeous.
While fans are freaking out about the baby's birth, it is important to remember that it wasn't the easiest journey to get to this point. Kardashian's decision to use a surrogate was done out of her health, according to People, after doctors had told her that carrying a third child would be an extremely high risk.
And while Kardashian remained quiet about her choice to use a surrogate, she later decided to open up about her decision on the newest season of Keeping Up With The Kardashians. But once she confirmed that she was expecting a third child, Kardashian never held back on her struggles with dealing with a surrogate for the first time, saying on a recent episode, according to People:
Getting a surrogate and finding someone that you really trust is so much more difficult of a situation than you could really imagine. You have to like make sure that their lifestyle is healthy and they have to go through psychological testing, and it was maybe before we finalized our current situation. But I think everything happens for a reason, because the surrogate that I really loved got approved and she is such a nice person, like she's so easy to talk to and she's the perfect fit for us, but we have to decide quickly, are we really gonna go through with this or are we gonna wait until we feel more prepared.
Kardashian's honesty about dealing with a surrogate for the first time did such good job at addressing the stigma surrounding surrogacy. Kardashian later opened up about how strange having a surrogate felt in the same episode of Keeping Up With The Kardashians. Kardashian said, according to People:
It is frustrating to not be able to do it on your own. It is a weird dynamic. Like I go to all of the doctors' appointments and I try to be really present, but when you're not carrying it yourself, it is such a fine balance of how much you're going to be in their lives.
But throughout her whole pregnancy, Kardashian insisted that the identity of her surrogate will remain private and her surrogate's personal life will remain protected — for an understandable reason. Not everyone can handle the hectic life of being a Kardashian and her surrogate should not have to have been subjected to that. However, Kardashian did tell the hosts of The Real, according to E! News that she did introduce her surrogate to her family (except her children who would be too young to understand) but she did not invite her surrogate to her baby shower. "I have the best relationship with my surrogate," Kardashian said. "She's so nice. She is the perfect person to do this for my family."
Thank goodness for Kardashian and West's surrogate for welcoming this little girl to the world!
Check out Romper's new video series, Romper's Doula Diaries:
Watch full episodes of Romper's Doula Diaries on Facebook Watch.