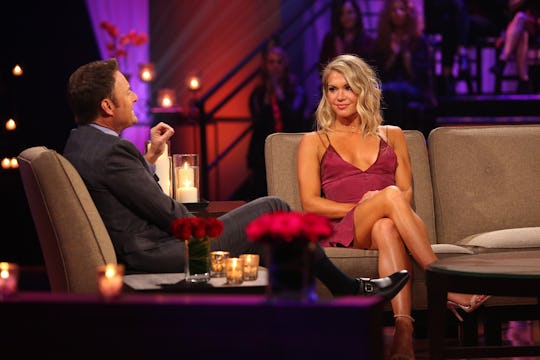 Paul Hebert/ABC
Krystal Had Some Choice Words For Arie & The Other Women On 'The Bachelor: Women Tell All'
Considering how controversial she's been during her time on The Bachelor, everyone expected serious drama from Krystal when she went on the Women Tell All special on Sunday. If you were watching, chances are you were a little disappointed only because some footage about Krystal's most serious insults were bleeped out. So what did Krystal say about Arie and the other women on The Bachelor? The Women Tell All special showed just when things got especially heated between Krystal and the other women on the show. Let's just say Krystal is not afraid to say what she really thinks.
Everyone who watched The Bachelor this season will remember Krystal's meltdown in Week 5 after the bowling date. Originally, Arie said that only the team that won the bowling game would go to the after party. But when he changed his mind Krystal, who was on the winning team, was extremely put out. The other women said that she had been insulting Arie on the bus ride back, and then she declared that she would not go to the party at all. But on the Women Tell All special, a few clips of previously unaired footage was shown, in which Krystal said a few choice bleeped out words that caused everyone's jaws to drop.
In the clip, Krystal called Arie a *bleep* and said the other women were *bleeps.* According to multiple reports, the Women Tell All special showed Krystal calling Arie a "needle d*ck" and referring to the other women as "c*nts." In a tweet, new Bachelor MVP Caroline Lunny confirmed that the bleeped words were, in fact, these now famous insults.
In response to the clip, the other women on the stage didn't hold back on their outrage. They told Krystal exactly how they felt about these words without mincing their words at all. At one point fan-favorite Bekah M. challenged Krystal, "Have you seen his d*ck?" But by far the most vocal in her criticism was Caroline. She did not seem as bothered by the insult to Arie as she was by the insult to herself and the other women on the show. She asked how Krystal dared to call the other women that word, saying that it was a disgusting thing to call other women. All I know now is that I want Caroline to back me up in every fight I have from now on.
The fight between the two escalated as Krystal accused Caroline of mocking her behind her back (which Caroline admitted to), but that still didn't excuse Krystal's behavior and the hostile way she treated many of the other women. Suffice to say, Krystal did not make a great impression on the show, and there was some undeniable satisfaction in watching the other women confront her for her questionable behavior once and for all.
But at the end of the segment, Krystal seemed to soften somewhat, so maybe we can all lower our pitchforks. Krystal apologized to the women for what she said, and opened up about her brother, who had been homeless for over a year. He was just now beginning the process of moving back in with their parents, she told the audience, after seeing her on the show, so she felt the whole experience had been worth it just for that reason alone.
I'm happy that Krystal's brother is getting the help he needs, and I also think that Krystal is wise in thinking that perhaps this way of finding love is just not for her.
Check out Romper's new video series, Romper's Doula Diaries:
Watch full episodes of Romper's Doula Diaries on Facebook Watch.