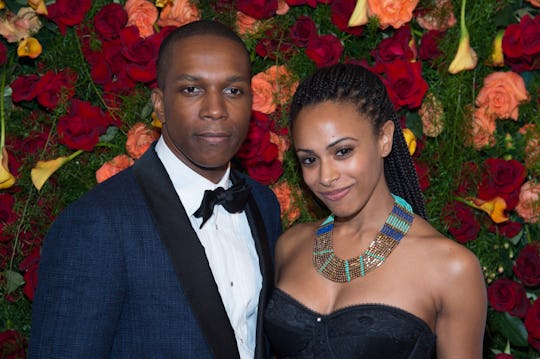 Mark Sagliocco/Getty Images Entertainment/Getty Images
Leslie Odom Jr.'s Daughter Has A Beautiful Name
Broadway star Leslie Odom Jr. — winner of a Tony Award for his portrayal of Aaron Burr in the much-acclaimed Hamilton musical — announced on Instagram on Tuesday that he and wife, Nicolette Robinson, welcomed their first child on Sunday. What did Leslie Odom Jr. and Nicolette Robinson name their daughter? Her name is Lucille Ruby Odom, according to People, a truly beautiful choice.
Playbill reported that little Lucille was born in the early morning on Sunday. Robinson experienced a "brief but harrowing labor," according to BroadwayWorld, which seemed to quote Odom's Instagram post about the birth of his daughter, but no other details about what that meant were offered.
According to People, Robinson is known for her roles on The Affair, Hart of Dixie, and Perfect Couples. Odom is of course known for his turn as Burr in Hamilton, but he's also appeared on Broadway in Rent and Leap of Faith, according to Playbill. Additionally, the outlet reported that he has wrapped filming on the remake of Murder on the Orient Express, which stars Johnny Depp, Daisy Ridley, Josh Gad, Michelle Pfeiffer and others.
Having parents with those sort of credentials, will little Lucille end up a star of stage and screen one day as well? With a name like hers, it would certainly be fitting.
Odom broke the news of his daughter's birth and name on Instagram, in a caption that could not be cuter:
Lucille Ruby arrived in the wee hours on Sunday morning after a brief but harrowing labor on the part of her incredible mother, Nicolette Kloe Robinson, the dragonslayer. Deeper in love by the minute.
And it's not the first time Odom has shared news about the baby on the social media site. Back in October, the Broadway star wrote the following in a caption of a photo to announce he was going to be a dad: "Little one, you're on our mind all the time. Keep eating and growing! We love you and we're already so proud of you! Love, your mom and dad."
Plus, Robinson has gotten in on the social media game to post about their daughter as well. In a photo of herself holding their new daughter, and wearing a gold necklace that said "Lucille," Robinson posted:
Lucille Ruby Odom came into this world on Sunday, April 23rd, 2017. 💕 She is the love + light of our lives and she's teaching us so much already... Our sweet Lucy 🌻 Mommy & Daddy couldn't be happier.
The couple didn't give any sort of reasoning for the name, although it does seem like she'll be going by the nickname "Lucy" at least some of the time. Could the moniker be in honor of past starlets of the stage, television, or movies?
It's totally understandable if fans don't learn anything more about Lucille and her name for a little while. After all, she's only a few days old, and her parents are likely ecstatic over her arrival and enjoying every second they can get with her. You know, around the exhaustion and nerves that also often come with being new parents. Needless to say, they're likely a little busy right now.
Congratulations are certainly in order for the very talented couple. And to Lucille, for being born to such a creative, musical, loving couple of individuals.