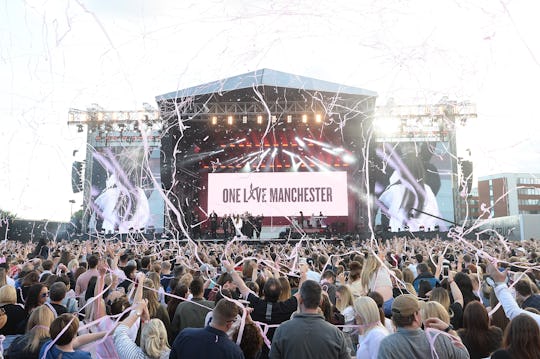 Getty Images/Getty Images Entertainment/Getty Images
Liam Gallagher's Audio Cuts Out At Manchester Concert
On Sunday, just after his first song at the One Love Manchester concert, Liam Gallagher's audio briefly cut, leaving fans who were tuning in from abroad wondering what happened. What did Gallagher say at the Manchester concert that got cut out from the broadcast? Or was there some sort of brief audio malfunction to blame for the mishap?
Not everyone watching from afar heard the audio cut out. Those who were watching on YouTube likely experienced an uninterrupted broadcast, but several fans watching on Freeform reported a censored few seconds during Gallagher's performance. Romper reached out to Freeform but did not hear back immediately.
Fortunately, the internet's best detectives came to the rescue. As one Twitter user wrote, it's possible that Gallagher's Manchester accent made an innocent "Thank you!" sound like a "F*ck yeah!" to foreign ears. Otherwise, perhaps there was a temporary, accidental cut in audio.
Regardless of those two seconds, fans were definitely surprised — and excited — to see Oasis' former frontman take the stage. He attended without his brother, Noel, but played Oasis' "Rock 'n' Roll Star," as well as his solo song, "Wall of Glass." Another Oasis classic, "Don't Look Back in Anger," was performed by Coldplay earlier in the evening. Gallagher and Coldplay's Chris Martin also teamed up for a rendition of "Live Forever."
Gallagher had previously said he could not make it to the benefit concert. According to The Independent, he had said during a recent BBC Radio One interview: "Mate, I don't think so. I mean, I'm up for it but I think we're booked for a gig somewhere."
During that same interview, Gallagher shot down Oasis reunion rumors. "Everyone knows I love our kid. He doesn't speak to me, we don't speak to each other," he said. He continued:
I'll speak to him some day. It's all very sad, but we'll get over it. ... If Oasis ever got back together… if they do, they do. If they don't, they don't.
Before Gallagher's last song on stage on Sunday, he paused for a moment to pay his respects to the victims of the recent attack. "I want to dedicate this song to the beautiful people who were killed in the Manchester terror attack," he said, before launching into a touching "Live Forever" with Martin.
Those who couldn't make it to the One Love Manchester concert but still want to support Gallagher's home city can donate to the British Red Cross' "We Love Manchester" emergency fund.