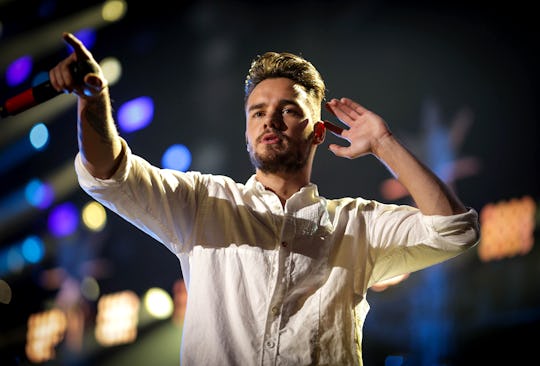 Christopher Polk/Getty Images Entertainment/Getty Images
Liam Payne & Cheryl Cole Have A Big Decision To Make
If you found yourself scrolling through your Instagram feed on Saturday afternoon, you might have come across some very cute and very exciting baby news. Former One Direction singer-songwriter Liam Payne and songstress Cheryl Cole both announced on Instagram that they welcomed their first child, a tiny baby boy, to the world earlier this week. They let us know how much he weighs (7 pounds, 9 ounces) and his birth date (Wednesday, March 22), but what did Liam Payne and Cheryl Cole name their son?
Well, it looks like the new parents still have a big decision to make because they both let their fans know that they still haven't settled on the perfect name yet. "I'm incredibly happy to welcome our new baby boy into the world, it's a moment that I will never forget for the rest of my life and my favourite memory I have so far," Payne wrote on Instagram along with a beautiful photo of him holding his newborn son. "We haven't named him yet but he's already capturing hearts including mine. I feel very blessed."
The 32-year-old former X Factor judge also posted on Instagram that even without a name, the little boy is already a heartthrob. "Although he still doesn't have a name he is already stealing hearts," the new mom captioned the same adorable photo Payne posted. "We are all madly in love and overwhelmingly happy with our little arrival." ‌
Naming a child is a huge decision to make. For some parents it comes to them right away, or it's a family name that's been passed on for generations, or maybe they've decided on the perfect name well before the little one arrived. But for others, waiting to see their newborn and learn a bit about their personalities helps narrow down the options. And considering that this one little word is one of the most defining pieces of identity that you carry with you for a lifetime, it totally makes sense that some parents need a little extra time to make this decision.
As for these new parents, they seem to just be soaking up every moment of this magical time. "My close friends and family know there are very few times when I'm left speechless... wow!" Payne wrote on Instagram of his excitement. "I'm completely in awe of his incredible mother and how she has been the whole way through this, she's really made my dreams come true."
Will they go the traditional route with a family name or will they choose a bizarre baby name like Jason Lee who named his kid Pilot Inspektor or Sylvester Stalone's son named Sage Moonblood? Whichever name Payne and Cole choose for their bundle of joy, it's clear that they're taking the time to pick the perfect one.