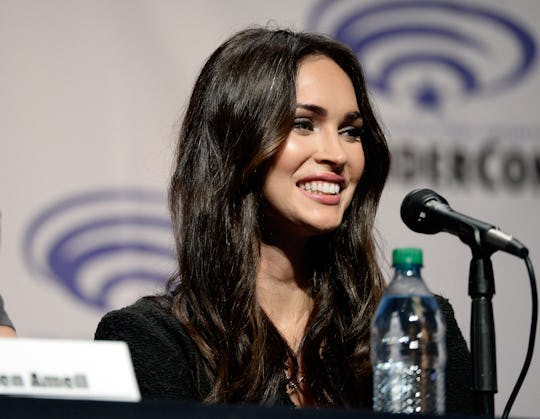 Frazer Harrison/Getty Images Entertainment/Getty Images
What Did Megan Fox Name Her Baby? His Name Is Symbolic In More Ways Than One
Megan Fox surprised fans when she showed up unexpectedly pregnant at Cinema Con in April. She gave birth to her third son on August 4 and has kept the new arrival under wraps since then. So what did Megan Fox name her baby? She and husband Brian Austin Green chose a pretty cool name for the tiny tot — Journey River Green. Cute right?
I mean I don't know that anyone want to journey on a green river, but I love that it if you shorten it (so you can get his attention when he starts crawling away) to "Joe" or something and that the full version is just as fun to say. Not that she needs mine or anyone else's approval but I'm all about it.
Journey joins his two brothers (both children that Fox and Green had together), 3-year-old Noah and 2-year-old son Bodhi. Green also has a 13-year-old son, Kassius Green, from a prior relationship. It's a growing family, even though in August of 2015 Fox filed for divorce from her husband of five years, citing "irreconcilable differences." Since then, the couple seem to have reconciled their differences, in an attempt to make things work again.
Green and Fox have been together for 11 years and married for five. That's a lot of history. And a lot of family time. E! News reported that as news of the third pregnancy spread, the two decided to reconcile. It wasn't the first time the couple had hit a few speed-bumps and recovered either: Fox and Green met while working on ABC's Hope & Faith in 2004, were engaged two years later, then called it off, got engaged again a year later, and finally married in June of 2010.
"Brian and Megan have been working on themselves as individuals and things have gotten better between them as a couple," E! News' source said at the time. "They have been getting along great. They are best friends and know each other very well." Now that the couple are expecting their third, it's a safe bet that they're both even more eager to make it all work.
Earlier this summer, Fox joked on Jimmy Kimmel that her then-unborn son Journey was a genius who wanted to get up and get going. "This baby [wants] me to live somewhere else, so we're moving to a whole different place in Los Angeles because I feel like that's where this baby wants to be raised," she said. If nothing else, it's probably safe to say the the third-time parents can at least happily agree on that. After all, a fresh start couldn't hurt. Right?