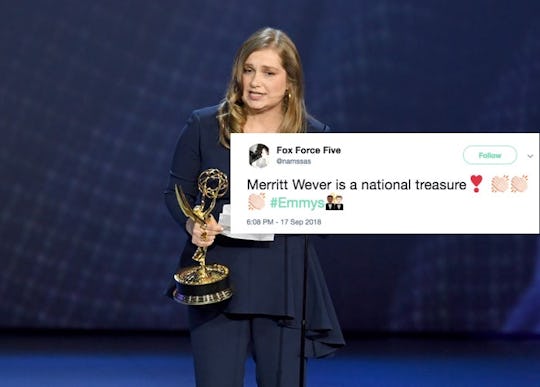 Kevin Winter/Getty Images Entertainment/Getty Images
Merritt Wever's Reaction After Winning At The 2018 Emmys Was Perfection, But Definitely NSFW
If viewers didn't know who Merritt Wever was before the Emmy Awards on Monday evening, then they will undoubtedly recognize her name now. The actress ended up winning the award for outstanding supporting actor in a limited series or movie for her role as Mary Agnes in Netflix's Godless. And let's just say the immediate reaction to her name being announced was priceless. But what did Merritt Wever say in her seat at the 2018 Emmy Awards?
Although it happened so quickly that it was easy to miss, those with a keen eye for profanity definitely picked up on Wever's shocked reaction — which included an F-bomb on national TV. From my living room couch, it appeared as if Wever exclaimed, "Oh f*ck!" before catching herself and then proceeding to say, "Oh, sh*t!" LOL.
And it seems like at least one other Twitter user saw exactly the same thing go down. This eagle-eyed Twitter user wrote, "I have no idea who Merritt Weber is but her saying 'oh f*ck' at her Emmy win, realizing it and covering her mouth then saying 'oh sh*t' makes me think we would be very good friends." LOL. My sentiments exactly.
If you missed the hilarious moment, here's a GIF — courtesy of Entertainment Tonight — to prove that I'm not just putting words in Wever's mouth. The ET's Twitter account fittingly tweeted, "Merritt Wever's reaction to her #Emmys win was SO genuine."
Wever's initial reaction wasn't the only amazing part of her winning the Emmy. Because her acceptance speech was pretty spot-on, too. "I hope you don't mistake my fear for a lack of gratitude," she said nervously upon making it to the microphone — Emmy trophy in hand — and fumbling with notes written on a piece of paper, according to People. "I came prepared and it's bombing already. I wanted to be a grown-up about this."
According to The Hollywood Reporter, Wever added, "I wanted to say congratulations to the other nominees. It's very much an honor to be counted among you tonight. It's a really lovely thing." If you missed it, she ended up beating out the following actresses: Sara Bareilles in Jesus Christ Superstar, Penelope Cruz in The Assassination of Gianni Versace: American Crime Story, Judith Light inThe Assassination of Gianni Versace: American Crime Story, Adina Porter in American Horror Story: Cult, and Letitia Wright in Black Mirror.
Wever noted that although there were plenty of people she wanted to thank, she was going to do that in private. She concluded:
I just want to say that I'm still shocked that you've made a space for me and that you made a space for Mary Agnes. I love her and I still miss her, and I hope she's well and I wish I could tell her about tonight, and thank you from the both of us.
It seems plenty of Twitter users could relate to Wever's beginning sentiments, in particular. One person tweeted, "'I wanted to be prepared and I'm bombing already' = my life."
Another Twitter user wrote, "I haven't seen Godless but I *have* seen Merritt Wever & I like her a lot. 'I really hope you don't mistake my fear for lack of gratitude.'"
As USA Today reported, tonight marks Wever's second Emmy Award — and her first acceptance speech actually went viral back in 2013. Although there was no pre-stage profanity when she was announced the best supporting comedy actress for her role in Nurse Jackie, her 11-word speech was pretty darn epic. "Thanks so much. Thank you so much. I gotta go. Bye," Wever stammered to the audience before speed-walking offstage.
To be completely honest, I had no idea who Merritt Wever was before tonight's Emmy Awards. But now I have a strong urge to check out Godless for myself — because this woman is freaking amazing. Congrats on your big win, girl!