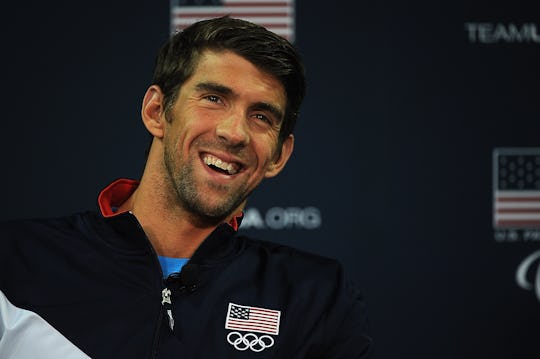 Jonathan Moore/Getty Images Sport/Getty Images
What Did Michael Phelps Name His Son?
Olympic swimmer Michael Phelps is now a dad. He and his fiancee Nicole Johnson officially swum into parenthood and welcomed their first child, a son, on Thursday, May 5. The baby boy has some impressive footsteps to follow with dad as the most decorated Olympian of all time and mom who once held the Miss California title. But, their brand new bundle of joy won't need to worry too much because what Michael Phelps named his son will definitely set him up to be a MVP.
"Welcome Boomer Roberts Phelps into the world," the new dad posted on Instagram on Saturday. "Born 5-5-2016 at 7:21 pm !!! Healthy and happy!!! Best feeling I have ever felt in my life!!!" According to Babynames.com, the meaning behind the name translates to "loud or notable." So, hopefully for the new parents the "loud" character won't be too accurate right away.
Back in November the couple announced on Instagram they were expecting in an adorable photo of the pair by a swimming pool while the mom-to-be held a teeny, tiny, MP- branded speedo against her budding belly. Later in March, they celebrated Baby Boomer's upcoming birth with a cowboy-themed baby shower and all the attendees dressed the part.
According to People, the couple was dating on and off since 2007 and split 2011. They eventually rekindled their love in 2014. In February 2015, Phelps posted a snowy photo of the couple cozied up with the announcement of their engagement on Instagram.
Even though the Olympian dad has had some rocky moments in the past couple years — two DUI arrests last year and a six-month suspension from competing — things seem to looking like gold medals for Phelps now. Baby Boomer is one reason to be all smiles, but there is also talk of Phelps coming out of his retirement and competing at the Rio Olympics.
In an interview with the Associated Press in August 2015, Phelps talked about how therapy had helped him address some issues that had been weighing on him.
"I feel like I am OK and I am happy with who I am," Phelps said in the AP interview. "I feel like I've learned so much about myself, who I truly am. I can honestly say there aren't many people in this world who have seen who I really am."
Phelps has managed to stay out of the spotlight for some time now, but news of his possible return to the pool this August and the birth of his son have America even more excited to watch the national treasure break historic records once again, now with a brand new cheerleader in the bleachers.