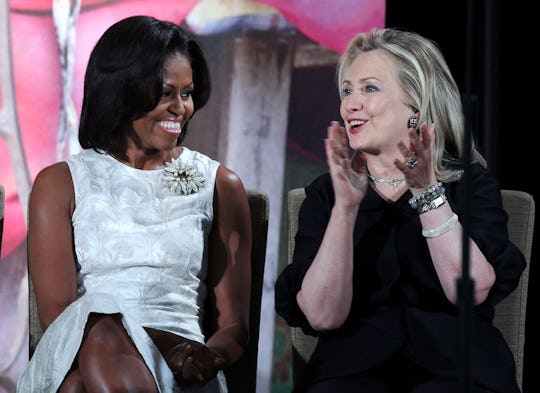 Alex Wong/Getty Images News/Getty Images
What Did Michelle Obama Say About Hillary Clinton During The 2008 Election?
During the second presidential debate, Republican nominee Donald Trump (somewhat surprisingly) brought up current First Lady Michelle Obama, who has been stumping for Democratic candidate Hillary Clinton. During the debate, Trump insinuated that Michelle had spoken badly of Clinton during the previous elections, in which Clinton ran against current president Barack Obama. So, what did Michelle Obama say about Clinton during the 2008 election?
While both Michelle and Barack Obama have advocated for Clinton during this election, Barack and Clinton were rivals during the presidential primaries eight years ago, and they weren't necessarily patting one another on the back. In 2008, Barack's campaign actually ran an ad against Clinton that said she would "say anything and change nothing," and accused her of "making false attacks on Barack Obama," according to ABC.
Funnily enough, ABC's Michael James said the ad attack was "so harsh, in fact, I wouldn't be surprised to see whomever the GOP nominee ends up being using it in his ads against Clinton." Seeing Trump bring up the Obama campaign's words against Clinton really brings it all full circle.
According to Fox News, Michelle also made a comment alluding to Clinton and her marriage during the 2008 campaign, although Michelle never used Clinton's name.
At a campaign stop in Chicago, Michelle said, "One of the things, the important aspects of this race, is role-modeling what good families should look like. And my view is that if you can't run your own house, you certainly can't run the White House." According to NBC, the Obama campaign said that Michelle was not referring to the Clintons, and Clinton did not comment on the incident.
"She wasn't making any reference to that," Barack said, according to NBC. "I think this is, you know, if you anybody who's been listening to Michelle on the stump, has talked about the importance of family, and the need for our family to make sure that we're thinking about our kids during the process of this campaign. And, you know, she's repeated that on — in every stump speech."
Whether Michelle was attempting to slide a sly dig in at Clinton or not, we'll never really know. It is clear that the Obamas and Clinton tried to outdo one another during the primaries, but hey — they were, at that point, running in competition to each other. Exchanging a few heated words at a debate or saying you're more prepared than the other candidate shouldn't really be all that surprising.