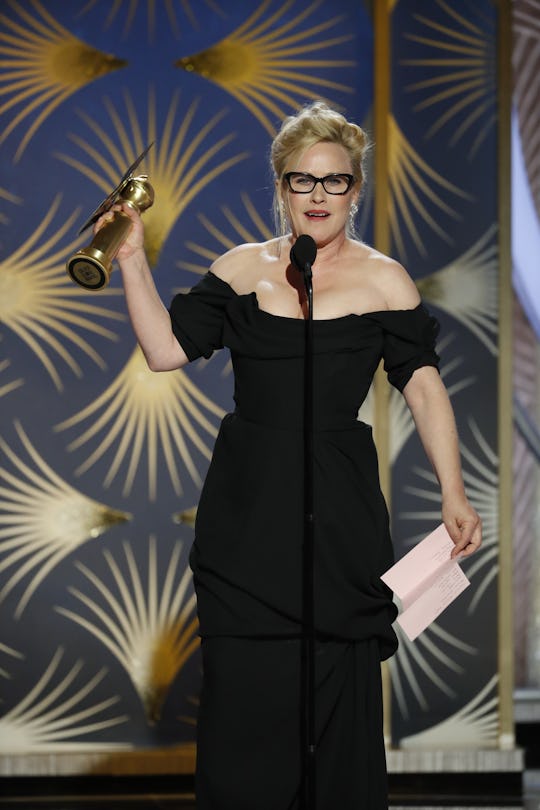 Handout/Getty Images Entertainment/Getty Images
Here's What Patricia Arquette Said During Her Bleeped Golden Globes Speech
Actress Patricia Arquette took home the Golden Globe award for her work in Escape at Dannemora Sunday night, according to Variety, but during her speech, Arquette either forgot that she happened to be speaking on live television, or, well, she simply didn't care. Wondering what Patricia Arquette said during her Golden Globes speech? It was at times hard to actually tell, since parts of her speech ended up getting bleeped out.
Arquette beat out nominees Regina King, Laura Dern, Connie Britton, and Amy Adams for her work in the limited Showtime series, in which she played a woman who helped two inmates break out of prison, according to Entertainment Weekly. And it's pretty clear she really loved the role: in her speech, she lavished praise on producer Ben Stiller, telling the crowd, "I love Ben Stiller. And to be an actor to work with Ben Stiller, you're gonna love working with Ben Stiller." Arquette then shared her gratitude for the rest of the cast and crew, though that's also where things started to get a bit dicey.
In reference to her fairly drastic on-screen transformation, Arquette thanked the team who helped her get camera-ready, including prepping her fake teeth, according to The Hollywood Reporter. But, never one to hold back, the actress joked, "How many f*cked up teeth do you need? I was born with f*cked up teeth!"
It sounds like it didn't quite take long though for Arquette to decide that may have not been the most appropriate comment to make. According to The Los Angeles Times, the actress acknowledged her blunder backstage, and said,
I'm so sorry. I'm so sorry, I know you cant take it back can you. I didn't plan that. It was an unplanned F-bomb. I'm very sorry, this is a very elegant occasion. Dental traumas are true, trust me.
With such heavy competition in the category though, it makes sense that Arquette may have felt somewhat caught off-guard. Though she did come prepared with hand-written notes, she told Us Weekly prior to the awards show that she had "been in denial" about her nomination, and joked that she'd "started having a low-grade anxiety attack" just thinking about getting ready for the big night.
Clearly though her fans were totally here for her win, although some *did* think her speech was pretty exhaustive:
Profanity aside, Arquette is definitely no stranger to giving memorable award show speeches. At the Oscars in 2015, the actress gave a headline-making speech during her Best Supporting Actress win for Boyhood, according to Variety, using her time to speak out about wage equality in America. She said,
To every woman who gave birth to every taxpayer and citizen of this nation, we have fought for everybody else's equal rights. It's our time to have wage equality once and for all and equal rights for women in the United States of America.
But it turns out she also managed to stir up some controversy then, too: in additional comments to reporters in the press room backstage, Arquette urged "all the women in America and all the men that love women and all the gay people and people of color that we've all fought for to fight for us now," according to The Huffington Post, which, honestly, felt like a pretty heavy dose of white feminism.
In a later interview with TheWrap, Arquette said that "the way people perceived [the comment] is not the way at all [she] intended," and said she "would have chosen [her] words a little more carefully" if given a do-over.
In comparison, well, Arquette's quip about her teeth really doesn't seem all that bad, even if she did feel the need to apologize for it. And though it may have been uncalled for, hearing her sound so grateful to the people she worked with was pretty heartwarming, even if it may have come out a little less refined than the network may have wanted.