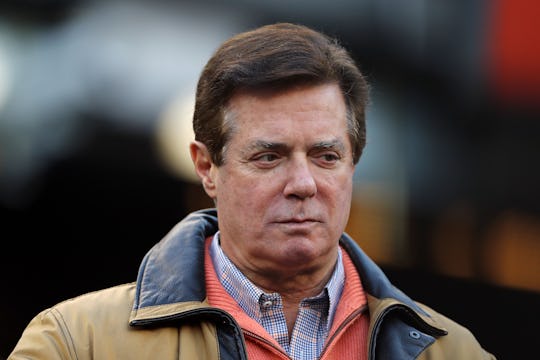 Elsa/Getty Images Sport/Getty Images
Paul Manafort Just Surrendered To The FBI — Here's A Refresher On His Alleged Illegal Activity
On Friday, news broke that the first indictment related to the FBI's investigation into alleged ties between President Donald Trump's campaign and Russian officials would be announced Monday. Shortly after, the hashtag #MuellerMonday started circulating on social media. Amid the excitement to see justice served, though, hung the question of who would be indicted. Now, Trump's onetime campaign chairman has reportedly surrendered to the FBI. So now is a good a time as any for an examination of what Paul Manafort did that was allegedly illegal, because his indictment is likely the first in a cascade of them to come.
First, the charges: HuffPost reported that Manafort and his former business associate Rick Gates have been charged with conspiracy and money laundering after Manafort and his lawyer arrived at FBI headquarters in Washington, D.C., Monday morning. The indictment alleges that Gates and Manafort laundered payments they collected from Ukraine "through scores of United States and foreign corporations, partnerships, and bank accounts," for at least a decade, starting in 2006. Their goal was allegedly to hide the payments from authorities in the United States.
Update: On Monday afternoon, a spokesperson for Gates released a statement confirming that his client had pled not guilty and that Gates "welcomes the opportunity to confront these charges in court." Gates will not comment further, the statement reads, commenting on the "unexpected and hasty proceeding designed to accommodate perhaps political and press considerations rather than his right to have counsel of his choice by his side during this most troubling day for him and his loved ones." Manafort also pled not guilty.
Before: The law firm representing Manafort did not immediately respond to Romper's request for comment.
In August 2016, before the presidential election, Manafort was fired from the Trump campaign when reports surfaced that he had received upwards of $12 million in undisclosed payments from a Ukranian man for whom he had once worked, according to The New York Times: Viktor F. Yanukovych, a pro-Russian politician who was president of Ukraine from 2010 to 2014.
The fact that Yanukovych has been identified as pro-Russian is significant because the probe of which Manafort and Gates have become the first indictees centers around that foreign power. Basically, U.S. authorities have determined that Russian operatives launched a misinformation campaign to influence the outcome of the 2016 election, but an open question remains as to whether Trump or anyone in his campaign colluded with them to do so. Trump has denied this, but Mueller is reportedly investigating Trump for obstruction of justice, too. In May, Trump fired then-FBI Director James Comey, who has refused to publicly announce that the president was not under investigation for potentially having colluded with Russia, The Washington Post reported.
Although Manafort's alleged wrongdoing is making international headlines (and was detected) because of the prominent role he played in the Trump campaign, the crimes he stands accused of having committed would have largely — if not exclusively — taken place before he joined the Trump campaign. (Still, the timeframe for the alleged crimes extends from 2006 to 2016 and possibly past that, as Toronto Star Washington correspondent Daniel pointed out in Twitter. And Manafort joined the campaign in March of that year, ascending to the role of chairman just months later.)
And, as NPR pointed out, the Justice Department indictment — which lists the 12 counts against the men as "conspiracy against the United States, conspiracy to launder money, unregistered agent of a foreign principal, false and misleading FARA statements, false statements, and seven counts of failure to file reports of foreign bank and financial accounts" — does not acknowledge the specter of Russian collusion.
If the charges in the document turn out to be true, though, it would mean that Manafort and Gates stashed more than $75 million in offshore bank accounts, and that Manafort himself laundered $18 million of that. Gates, who has worked for Manafort's lobbying firm as well as on the Trump campaign, allegedly transferred more than $3 million.
According to Politico, Manafort and Gates allegedly used offshore companies as a means to not pay taxes on their foreign lobbying work, as well as defrauded banks to win loans.
Both are scheduled to make their initial appearances in court Monday.