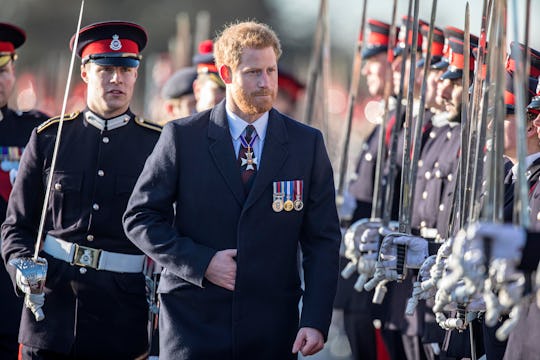 WPA Pool/Getty Images Entertainment/Getty Images
Here's What Prince Harry Did In The British Army
Anyone who pays any attention to the British royal family knows that Prince Harry's wedding to his fiancée, Meghan Markle, is coming up fast. The couple is set to be married in May, in what is sure to be a lovely affair that people will talk about for weeks. As interest in the event grows, so does interest in the couple's past, and who they were before they started dating and got engaged. In particular, some people are especially curious about Prince Harry's past, since he's sometimes a bit overshadowed by his older brother, Prince William, who is next in line for the throne. For instance, what did Prince Harry do in the military when he served up until a few years ago? He was definitely an active soldier, and almost certainly didn't skate through his military career as some have suggested.
Prince Harry served in the British Army for 10 years in various roles, according to the official website for the royal family of the British monarchy. He reportedly first entered the Royal Military Academy Sandhurst in May 2005 to start his training as an Officer Cadet, and undertook a demanding 44-week training course before he was officially commissioned as a British Army officer in 2006.
Clarence House, a royal residence in London, announced Prince Harry was going to "join the Blues and Royals" in January 2006, but he didn't officially join his regiment until May 2006, the royal website reported. And by February 2008, the Ministry of Defence confirmed that Prince Harry had already been serving with the British Army in Helmand, Afghanistan for more than two months.
Prince Harry was initially supposed to go to Iraq with his regiment, not Afghanistan, but his post was changed after a number of "specific threats" were made against him, according to CNN International. But it sounds like it didn't take very long at all for him to get back on track.
Prince Harry served for four months in Afghanistan, before his presence there became too widely known, according to CNN. He reportedly received the Operational Service Medal for his service in Afghanistan, before qualifying as an Apache helicopter pilot. Prince Harry was even promoted to the rank of captain, and eventually, he returned to Afghanistan in 2012 on a 20-week deployment.
Prince Harry once admitted that he killed Taliban insurgents during one of his tours of duty in Afghanistan, when he was a crew member for an Apache attack helicopter, according to CNN. So if you think he just sat back and let everyone else around him do the hard work, think again.
In fact, one politician in the United Kingdom recently tried to criticize Prince Harry's military service. In September 2017, Emma Dent Coad said, according to People:
He tried to pass the helicopter exam about four times and he couldn't get through it at all, so he always goes for the copilot. So he just sits there going 'vroom vroom.'
But Prince Harry's own commanding officer during his Apache operational training (who, for security reasons, could not be named) refuted that claim, and said that Prince Harry was even awarded as the best Co-Pilot Gunner (or CPG) in his course. He said, according to People:
Ultimately he was given the award for the best CPG on his course not because he was a member of the monarchy but because he was by far and away the most capable individual on the course.
That sounds like a far cry from just sitting there and doing nothing, if you ask me.
Prince Harry ended his military career in 2015, according to People. Before he left, he started pursuing work to help injured servicemen and women find new jobs, a cause that he continues to advocate for in civilian life.
In fact, it sounds like before he technically concluded his role with the military, Prince Harry founded the Invictus Games — "an international sporting event for injured servicemen and women" — in 2014, according to the Royal Foundation of the Duke and Duchess of Cambridge and Prince Harry. And he reportedly wants to expand the Invictus Games even more, according to The Telegraph.
It appears that, while Prince Harry served with a regiment in the army and acted as a pilot during his military service period, he also gained valuable insight into the lives of wounded veterans during that time. For many reasons, Prince Harry's military experience seems important to him, and it clearly informs the service work he still carries out today.
Check out Romper's new video series, Romper's Doula Diaries:
Watch full episodes of Romper's Doula Diaries on Facebook Watch.