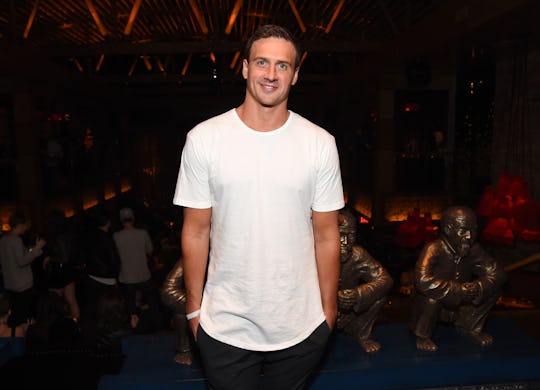 Michael Kovac/Getty Images Entertainment/Getty Images
What Did Ryan Lochte & Kayla Rae Reid Name Their Son?
Early Thursday morning, Olympic medalist Ryan Lochte and his finacée welcomed their first child, according to Us Weekly. Now fans want to know, what did Lochte and Kayla Rae Reid name their son? The couple hasn't given up too many details just yet, but Lochte did previously say that they wanted a "unique" name. Could it be "Jeah"? Eh, probably not. But if Lochte wants his son to be the most uniquely-named child of an Olympic swimmer, he's facing some tough competition; Michael Phelps and his wife, Nicole Johnson, welcomed their son Boomer just over 13 months ago. Phelps explained to Sports Illustrated that they wanted to name their child "something different and something cool."
Lochte and Playboy model Reid began dating in January 2016, according to the New York Post. The couple matched on Tinder before meeting up at a "burlesque-themed nightclub co-owned by David Arquette," which is of course how most classic love stories begin. Reid told the Post in November, "I had always heard he was a player and a partier. I always said I would never date an athlete. When I met him, he was the complete opposite of everything I thought he was." Three months later, she moved from Los Angeles to North Carolina to be closer Lochte, and even though he pretended to be single at the time, Reid was in Rio for the Olympics in August.
Lochte didn't appear to put much effort into the cover-up, however, because he told Us Weekly in March 2016 that he was dating an unnamed non-athlete, then posted Instagram pictures of her throughout April and May, using the L-word and the hashtag "Rayla." But even after the pair were spotted together during the Olympics, Lochte told Today's Matt Lauer that he wasn't dating anyone, according to Extra. Once the games were over, though, he got right back to 'gramming their relationship, posting a photo captioned "To the moon and back!!" in early September, and a statement mentioning his "girlfriend" just days later.
In October, Lochte's rep confirmed to People that the couple was engaged after they both posted Instagram photos prominently displaying a ring on Reid's left hand featuring a diamond roughly the size of a Junior Mint. In December, the couple announced — again via perfectly staged Instagram photos — that they were expecting a baby, and in January, Lochte told Us Weekly that it was a boy. They've reportedly been planning the wedding during the pregnancy (can you imagine?) and plan to marry in the fall. I'm exhausted just thinking about it.