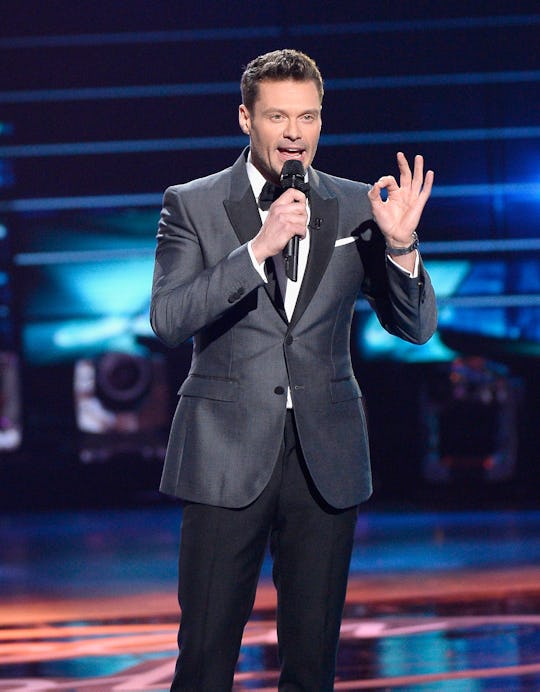 Kevork Djansezian/Getty Images Entertainment/Getty Images
What Did Ryan Seacrest Mean By "For Now" On 'American Idol'? This Might Not Be The End
It was an end of an era on Thursday when after 15 seasons, American Idol finally ended. The finale was full of memorable contestants from seasons past returning to the stage one final time before someone — preferably Ryan Seacrest — turned off the lights forever. Then again, maybe this isn't forever, since in the final moments of the show, "Ryan Seacrest said goodbye... for now." So, is this not the end of American Idol? Turns out, this big grand shebang might have been for nothing.
The finale was a roller coaster of emotions. Who would have thought that Taylor Hicks playing a harmonica in a pink velvet blazer would bring tears to my eyes, but alas, here we are. So, with my emotions weak and my heart heavy, the last thing I was expecting was for Seacrest to throw a curveball at the audience and suggest that there was more American Idol to come, especially after the production they just put on.
Simon Fuller — the man behind the curtain/ in the front row of the audience — told The Hollywood Reporter that this is not the end of American Idol, but it might be the end of the American Idol we know. "The next generation of Idol — and Idol will certainly be coming back for sure — will have a youthful glow and it will be pioneering again, just as it was when we first began," he told the magazine just days before the finale.
While this is great to hear — from a fan's standpoint — I can't help but wonder what the whole point of this grand finale was. Then again, I can see American Idol taking a few years off, refreshing, and coming back bigger and better than ever, with an audience gleefully awaiting its return. At that point, it will almost be a nostalgia show — and we know how much people love a good throwback (see: Thursday's entire lineup).
If that's the case, you can't help but wonder what the "new" Idol will have in store, or should I say, who the new Idol will have in store. Will Seacrest come back? Or is Seacrest officially out? How long will we have to wait for these answers? American Idol will be right back, after this (indefinite) break.