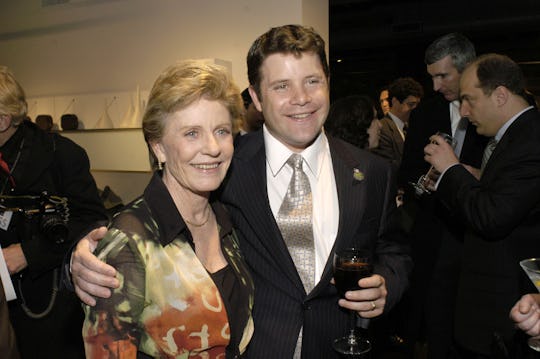 David S. Holloway/Getty Images Entertainment/Getty Images
What Did Sean Astin Say About Patty Duke's Death? The Actor Called His Mom "A Warrior"
The news of Patty Duke's death on Tuesday hit fans extra hard, not only because they were grieving for the actress, but because of the sympathy they felt for her son, actor Sean Astin. Whether from The Goonies, Lord of the Rings, or Special Agent Oso, everyone knows him, and it's heartbreaking to see him lose his mother at such a young age. But reading what Sean Astin said about Patty Duke's death is comforting; it's clear that he's at peace, and ready to carry on his mother's legacy.
On Facebook Tuesday, Astin posted a statement from his family saying that they were celebrating "the infinite love and compassion she shared through her work and throughout her life." He also shared a link to a crowdfunding campaign to establish the Patty Duke Mental Health Initiative. Duke was an outspoken advocate for mental health awareness and care. The Initiative's goal is to create public awareness campaigns, support lobbying efforts, and fund mental health programs. Donations are needed to procure a headquarters location, hire staff, and establish a board of directors. The campaign has only been up for a day so far, but donations are rolling in – they've already cleared more than $20,000.
At a time in his life when most sons would have trouble just getting out of bed, Astin is a man on a mission, not allowing his mother's death to get in the way of her accomplishments, even for a moment. It seems that's a trait that he got from Duke herself; in an interview with the Associated Press (via the New York Times) Astin said of Duke, "There's a collective acknowledgement that she is a warrior and you watch this 4 foot 10, tiny imp of a lady who's more powerful than the greatest military leaders in history. I'd put her up against Napoleon and she'd beat him." Astin also said that Duke "worked extremely hard," both at acting and in her advocacy.
Speaking about her passing, Astin said, "There was so much suffering. She really, really suffered in a way that – we were desperate to help relieve her suffering, and so it's just a blessing that she's not suffering anymore." Duke underwent surgery on Thursday to repair a ruptured intestine, and Astin said the doctors made it clear that the outlook wasn't good. "It was hard for her, it was hard for the people who love her to help her, it was hard for the professionals." Now Astin is focusing on continuing her work, and on the outpouring of sympathy the family's received from fans. "It's just such an affirmation of the best part of her and such a relief to be able to enjoy that as opposed to the pain that everyone was feeling," he told the AP. Everybody grieves differently, but if there's a "right" way to do it, surely Astin has found it.