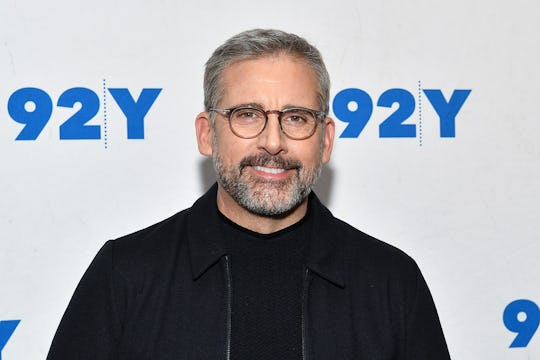 Dia Dipasupil/Getty Images Entertainment/Getty Images
People Want To Know What The Heck Steve Carell Said At The Golden Globes
One of the most talked about bleeps of the 2019 Golden Globes goes to Steve Carell, who threw out a curse word while presenting Carol Burnett with the first ever Carol Burnett Award. So, what did Steve Carell say at the Golden Globes? Twitter is dying to know.
To give some context to this viral bleep, this year the Golden Globes launched the Carol Burnett Award, the award ceremony's new television award.
"I'm absolutely gobsmacked over this. They said they were going to create a new award for television, and then they said they were going to give it to me and I was very honored, but then when they said they were going to name it after me, I was amazed," Burnett said about the honor to E! News. "Really amazed. I guess now I'll have to keep my name."
Carell had the honor of gifting Burnett with her own award this year, a moment he marked with a heartfelt speech. "She's a comedy legend," Carell said, according to IndieWire. "She is funny and gracious and kind. She is without a doubt one of the most revered, respected and well-liked people in show business."
The actor then said something that was bleeped out, leaving Twitter seriously confused.
"Since i'm watching #goldenglobes from home, can anyone tell me what Steve Carell said about Carol Burnett and Tom Hanks that got obliterated by the censors?" one fan asked.
Someone else chimed in: "Okay so what did they cut out of Steve Carell's speech? He said she makes Tom Hanks look like — and then cut."
"I need to know the punchline of @SteveCarell's joke...it's been said Carol asks Tom Hanks to do what?!" another fan added.
"Makes Tom Hanks WHAT, @SteveCarell??" one person pleaded.
On that note, what the heck did Carell say? "It's been said that she makes Tom Hanks look like an a—hole," according to TooFab.
After Carell's remark was confirmed, many people took to Twitter to praise the joke.
"Watching @SteveCarell call @tomhanks an a**hole just made my year!" someone tweeted. "Love them and congrats Carol Burnett!"
"This is why i love @SteveCarell," someone else said.
Some fans called for Carell to host other award shows.
"Steve Carell would be a fantastic host for the #Oscars @TheAcademy," one person suggested.
"Can I start a petition to have @SteveCarell host The Oscars in February? Funny, nice and everyone likes him, except for @rickygervais!" one person asked.
Although it remains to be seen whether the Academy will give Carell a call, it's clear that Burnett is a lovely person. Look no further than her acceptance speech, in which she talked about achieving her lifelong dreams.
"Regardless of the medium, what fascinated me was the way the stars on the screen could make people laugh or cry or sometimes both," she said, according to TODAY. "And I wished and hoped that maybe, just maybe, someday I could have the chance to do the same thing. Well, those childhood dreams came true."
I don't know about you guys, but I think it's fair to say that Carell was right when he joked about Burnett making Hanks look like an a—hole.
After a very frustrating first birth experience, this Deaf mother wanted a change. Will the help of two Deaf doulas give the quality communication and birth experience this mom wants and deserves? Watch Episode Four of Romper's Doula Diaries, Season Two, below, and visit Bustle Digital Group's YouTube page for more episodes.