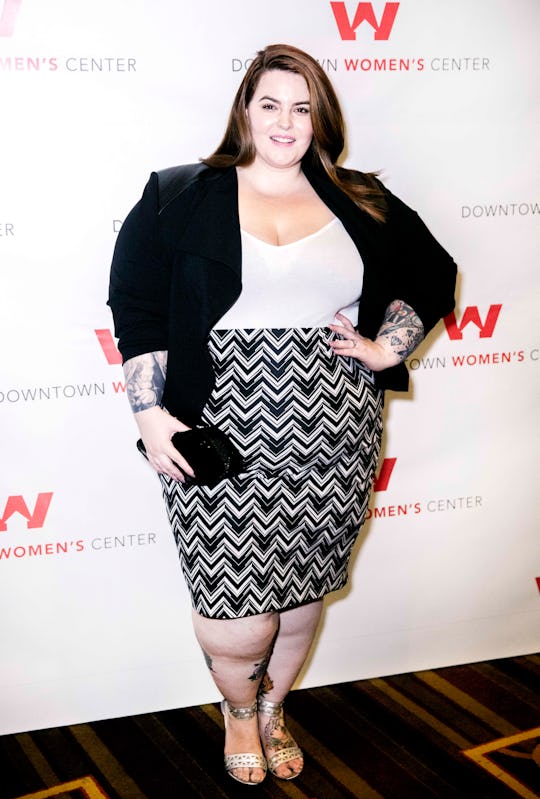 Mark Davis/Getty Images Entertainment/Getty Images
What Did Tess Holliday Name Her Baby? It's A Tribute To The Man
It's a boy! And he has the best, most 2016 name ever. On Tuesday, People reported that Tess Holliday named her baby Bowie Juniper. What a nice tribute to the man himself. Holliday, 30, and her fiancé Nick welcomed little Bowie on Monday, June 6. So they've been keeping him under wraps. The model also has a son, Riley, who is 10 years old from a previous relationship. But that doesn't mean her pregnancy was totally a cakewalk. She told People that the world for pregnant women has totally changed since her first time. "It's been 10 years since I had a kid, so there are so many things that are new," she said.
"My friends that have babies are posting all of these new swings and breastfeeding techniques and new bottles, and it's really overwhelming because I thought, 'I've already done all this,' but it feels like I haven't. I'm having to relearn a lot!" she added. Touché, madame.
But this time around, thanks to social media, she was able to post amazingly body-positive images on Instagram of her pregnancy. And even though she didn't have to, I'm really glad she did. We need more body positive women like Holliday around here.
It shouldn't be a big deal to see a plus sized woman to strut her stuff, but unfortunately, that's the kind of sorry media world we live in. She basically broke the internet this spring when she posted a nude selfie of her baby bump on social media. She captioned the image, "When people say to me, 'I can't tell you're pregnant.' I will continue to live unapologetically, to thrive in this body, prove the naysayers wrong & laugh at the ignorance." Thank goodness.
In addition to being a working mother, Holliday has become a spokesperson for body positivity all around. Her line of swag that reads, "Eff Your Beauty Standards" was a huge but caused some controversy when some buyers didn't receive merchandise and called her a "scam artist" on Reddit. She was raising money for a domestic violence charity — as a victim herself, the accusations hit her hard. In response, Holliday told Refinery29 in 2015 that she had lost a lot of sleep over the drama. "The reality is that I've done the best I can, and have tried to make everyone happy," she said. Do you, Tess.
With the birth of her second son, it's nice to know that there are badass women like Holliday raising boys in this world. And a little man named Bowie? He's bound to do big things, too.