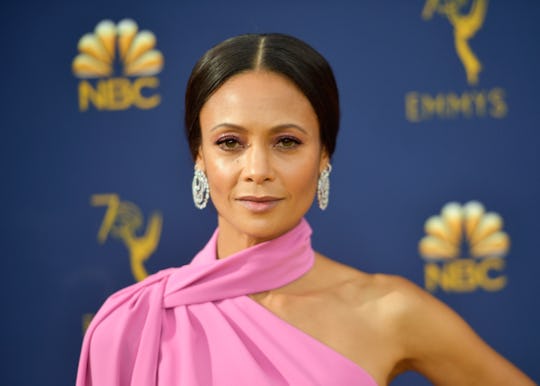 Matt Winkelmeyer/Getty Images Entertainment/Getty Images
Here's Why Thandie Newton's Emmy Awards Speech Went Silent For A Brief Moment
You never know what award winners are going to say during their acceptance speeches — it can be unpredictable, hilarious, and very wild. Like new Emmy Award winner Thandie Newton, who was censored during her acceptance speech at the 2018 Emmy Awards. As such, many people are likely wondering what exactly Thandie Newton said during her Emmy Awards speech that caused the audio to mute during her acceptance speech. Well, it's safe to say it was a little NSFA.
There were a lot of special acceptance speeches throughout the 2018 Emmy Awards — like an actual proposal happening on stage. But a once-in-a-lifetime engagement aside, you can't argue with the fact that Newton's speech was pretty amazing. Newton won an award for Best Supporting Actress in a Drama Series for her role as Maeve on HBO's Westworld, according to Vanity Fair. And you don't even have to be a Westworld fan (like myself) to appreciate how amazing Newton's speech was. The look on her face when her name was called said everything — Newton was ecstatic to win the award.
This definitely came across in her acceptance speech in which she referred to God as a woman and even dropped a curse word. People on Twitter were not only impressed, but also dying to know what Newton said during her speech that made them "bleep" out her words, because that bleep was pretty long.
So many people on Twitter were upset by the fact that they couldn't catch what Newton said when she seemingly cursed.
Although a full transcript of her speech isn't available, I am pretty confident that Newton said this when she cursed, thanks to her speech already being up on Twitter: "I am so blessed, I am so blessed, without this I am even so f—ing blessed."
But immediately after Newton said this, she covered her mouth, so it is a bit hard to read her lips. However, Newton's un-censored cursing must have been hilarious, because the entire Emmys audience broke out in laughter immediately after she spoke.
Although some people might have been disappointed that they couldn't hear Newton's full, uncensored Emmy's speech, this shouldn't outweigh Newton's huge accomplishment of winning an Emmy. This is Newton's first Emmy Award win ever, according to IMDB, and her second Emmy nomination, in spite of the fact that she has been working and appearing on TV for the past 27 years. This means that her award is pretty overdue and definitely a celebration that called for a few curse words.
Newton has only spoken highly of her role as Maeve on Westworld, according to Vanity Fair, and will likely continue to do so now that she has an Emmy. She has called Maeve a "freedom fighter" and has continued to be surprised by the twists and turns that she show takes, according to Vanity Fair. During the first season of the show, Newton even breast pumped during takes, according to The Guardian, because she had given birth to her youngest child six months earlier. Talk about deserving that Emmy.
You have to agree with Newton's speech — with or without her Emmy, she is so blessed. But having an Emmy to her name probably makes her feel amazing.