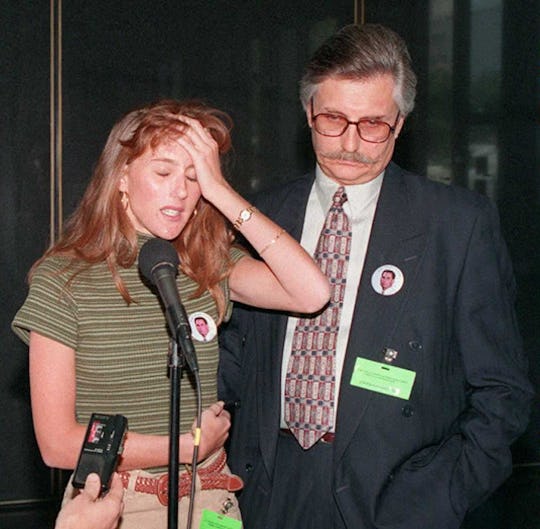 POOL/AFP/Getty Images
What Did The Goldmans Do After The Verdict? 'The People V. O.J. Simpson: American Crime Story' Family Hasn't Moved On
We've been waiting for this moment all season long, and on Tuesday night, the O.J. verdict will finally be announced. The People v. O.J. Simpson: American Crime Story has been a compelling, exciting, and incredibly disheartening show to watch. All season long, we've had a front-row seat to the never-ending twists and turns that have provided nonstop shock and complete surprise. Though there's been plenty of focus on Simpson in the aftermath of the trial, what did the Goldman family do after the verdict? The People v. O.J. Simpson: American Crime Story has done its part to help give voice to the experience of the victims' families in the days, weeks, months, and years after the verdict came down, and tonight's finale will no doubt follow suit. And though the verdict won't come as much of a surprise, it's still going to be incredibly interesting to watch exactly what was involved in the Decision of the Century.
In an interview published in Vanity Fair in December 1995, Kim Goldman, Ron Goldman's sister, reflected on life after the trail — mainly for O.J. Simpson: "What does it matter to me if people walk out of a restaurant when he walks in? I won't be there to see it. He's free, and my brother's dead." And on February 10, 1997, just a hair longer than two years after the murder trial of her brother concluded, the families of Nicole Brown Simpson and Ronald L. Goldman were awarded $25 million in punitive damages, according to the New York Times. (A week earlier, the New York Times reports, the same jury awarded the Goldman family an additional $8.5 million in compensatory damages.) However, Fred Goldman, Ron's father, released a statement clarifying that it was never about the money to him and his family:
The jury decision of last Tuesday was the only decision important to us, to find the killer of my son and Nicole responsible. 'The money is not an issue. It never has been. It's holding the man who killed my son and Nicole responsible.
According to the New York Times, the $8.5 million award was granted to Sharon Rufo and Fred Goldman, Ron Goldman's divorced parents, and then the second award — the $25 million — were shared between Fred Goldman and O.J. and Nicole Brown Simpson's two children, Sydney and Justin.
In an interview with PEOPLE published earlier this year, Kim Goldman shared that life since the trial hasn't gotten any easier. "My brother was the closest thing next to my father; he was my best friend and I am heartbroken that my brother was never able to realize his dreams and come into his own." Though it's been more than two decades since her brother was killed, Kim Goldman is now, according to TODAY, a dedicated victims' rights advocate. Her book, Media Circus: A Look at Private Tragedy in the Public Eye, profiles victims and survivors of high-profile violent crimes. Her first book, Can't Forgive, details the difficulty of losing her brother so young and mourning a private loss so publicly.
Kim Goldman has also been vocal about the pain the series has caused her, especially. "I'm forced to have to endure this week after week," she said in a February 2016 interview with the TODAY Show. Her dad, Fred, has also been incredibly candid about how difficult it has been to move forward with life since the O.J. trial ended: "It's like yesterday. The loss is exactly the same. Nothing has changed." Speaking with Matt Lauer on the TODAY Show in 2014, Fred Goldman said that his new normal was one which occurs "without any of the opportunity to share his life with him, his joys, his happinesses, his successes... all of that is gone."
For anyone who's watched the show, or for anyone who even remotely remembers the case, it's clear to see that though the courtroom doors have long since closed, the grief over losing a brother and a son for the Goldman family still comes in waves.