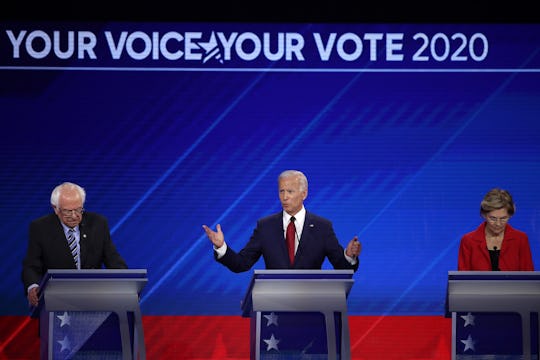 Win McNamee/Getty Images News/Getty Images
Breaking Down What The Hecklers Said At The Democratic Debate
Tensions were flying high at Thursday night's Democratic debate, both on and off stage. While former Vice President Joe Biden started to answer a question about his personal political setbacks, protesters in the audience began an inaudible chant. Biden and the rest of the candidates looked just as confused as viewers were at home. But, exactly what did the hecklers say at the Democratic debate?
The protesters were reportedly chanting "We are DACA recipients, our lives are at risk, please save us," according to Yahoo News. What they protests are referring to is the Supreme Court's upcoming ruling on the Trump Administration's termination of the Deferred Action for Childhood Arrivals (DACA) program.
As outlined by The Center for American Progress, on Nov. 12, 2019, the United States Supreme Court is set to hear arguments in order to rule on the future of DACA. In September 2017, the Trump administration rescinded DACA, but multiple lawsuits challenged the move.
In January 2018, a federal court ruled that current DACA recipients may need to reapply in order to keep their protections. As reported by North Jersey, nearly 700,000 people are currently at risk of losing their DACA protection, including Rodrigues Marques, who took to Facebook to share her experience.
"This spring, I might be undocumented again,'' Marques wrote on her Facebook page, according to North Jersey. "Then again, DACA was never a real form of protection. We are still being deported, our parents, friends and family are still being deported, but DACA gave me opportunities that I can't dismiss." She went on to reveal that DACA allowed her to get her first job, first car, and gave her the chance to work her way through college and earn a degree.
A tweet by Bloomberg revealed pictures of the protestors in the audience, of which two were wearing t-shirts that read "Defeat Daca. Abolish Ice. Citizenship for all."
It's unclear why the protestors chose to interrupt Biden during the debate, but it may have to do with the deportations that took place during the Obama administration. At one point in the debate, moderator Jorge Ramos pressed Biden on the deportations and asked him why Latinos should trust him.
"This is a president [Obama] who came along with the DACA program, no one had done that," responded Biden. "Sent legislation to the desk, a pathway for the 11 million undocumented in America — What I would do as president is several more things, because things have changed. I would, in fact, make sure that there is, we immediately surge to the border, all those people who are seeking asylum. They deserve to be heard."
Ramos pressed Biden further and asked him if he made a mistake with the deportations during the Obama era, but Biden deflected by conceding that he was just vice president at the time.
This wasn't the first time protesters interrupted a debate, and it likely isn't the last. Hopefully, the Supreme Court rules in favor of the thousands of DACA recipients whose livelihoods are at risk, and allows them to keep the protections they were once promised.