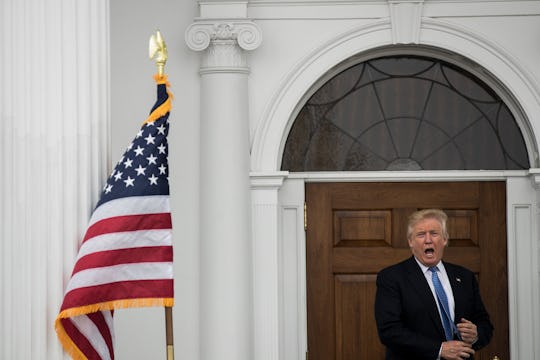 Drew Angerer/Getty Images News/Getty Images
What Did Trump Say To TV Hosts In A Private Meeting? Not "You're Fired," But Close
President-elect Donald Trump has been having a lot of meetings lately, though they haven't been his typical business meetings — or maybe they have been. Trump is in the process of selecting members of his cabinet, but that hasn't kept him from also holding meetings with other folks: specifically, the press, who he's been calling out on Twitter since long before the election began. This Twitter war has only continued to escalate now that he's set to become president. What did Trump say to TV hosts in a private meeting at Trump Tower earlier this week? Not "You're fired!," but his disapproval was clear.
Trump has been preoccupied with the media's representation of him since his early campaign days, but since becoming president-elect, he's targeted news outlets, specifically The New York Times, for their "unfair" coverage and "misrepresentation" of him. On Monday, he held a closed-door, "off-the-record" meeting with members of the media, such as Wolf Blitzer, Charlie Rose, Lester Holt, and George Stephanopoulos, at Trump Tower. A meeting like this isn't uncommon: it gives everyone a chance to regroup after the whirlwind election coverage, and discussions of a press pool for the president-elect can begin.
Trump's contributions to the conversation, however, were unprecedented: which seems to be Trump's modus operandi for his presidency. While politicians aren't exactly known for having friendly relations with the press, Trump's ire toward journalists seems more personal than political. And even if it is political, it's generally considered poor form for a president to tell the press how to cover them:
Trump has long accused the media of being dishonest in its reporting, but on Monday he had a chance to call out journalists and media executives face to face. And apparently, that's exactly what he did. Some, particularly those from CNN, were criticized by name, according to the New York Times, which reported on the meeting through its anonymous colleagues, who had been briefed on the meeting. In a piece for The New Yorker, David Remnick said several people he spoke to about the meeting said Trump's behavior was "totally inappropriate" and that Trump "doesn't seem to understand the First Amendment."
Trump's former campaign manager, Kellyanne Conway, arranged the meeting and said that it was "very cordial, candid and honest," according to CNN Money. Conway told reporters outside Trump Tower that she thought the meeting would "hit the reset button" between Trump and the press, according to The Daily Beast.
As of Tuesday morning, however, Conway's assumption didn't seem hopeful: Trump announced on Twitter that he had canceled his scheduled meeting with the New York Times, because they did not agree to his terms and conditions for the meeting:
After announcing the cancelation of the meeting, Trump added a jab at the Times:
The Times responded via a tweet from Clifford Levy, Assistant Masthead Editor:
Trump hasn't just limited his criticisms to the press, of course: he's tweeted consistently about his dislike of Saturday Night Live, who has had Alec Baldwin playing him throughout the election season opposite Kate McKinnon as Hillary Clinton. Political satire is the usual fare for television during an election year (and beyond), but Trump has been especially displeased with SNL:
When he hosted the show last year, he had plenty of positive things to say; albeit mostly about himself:
Despite his dislike for the media, major networks like CNN gave him countless hours of free exposure throughout the campaign — something they are now being criticized for by those who don't support Trump.
Newspapers that published investigative reports covering the many scandals of Trump's campaign — including the Trump University suit and the "Billy Bush Trump Tapes" — have received the bulk of Trump's disapproval, as he feels their coverage is not based in fact, and is making him out to be a person that he is not. (Even though the things they are covering are factual events that really did happen.)
Speaking of facts: Trump has asserted several times over the last few weeks that the New York Times has lost subscribers as a direct result of its unfair coverage of him. But the Times actually saw a 116,000 increase in digital subscriptions, according to Fortune.
He also seems to have forgotten that the country he is now president-elect of was built upon free speech, and that freedom of the press is constitutionally protected — at least for now.
Although Trump has yet to make a single comment about the endorsement of his presidency by Nazi and white supremacy groups including the KKK, or denounced the hundreds of hate crimes that have occurred in the wake of his presidential win, the president-elect seems to have plenty of time to tweet out his hot takes on the media and weekend television.