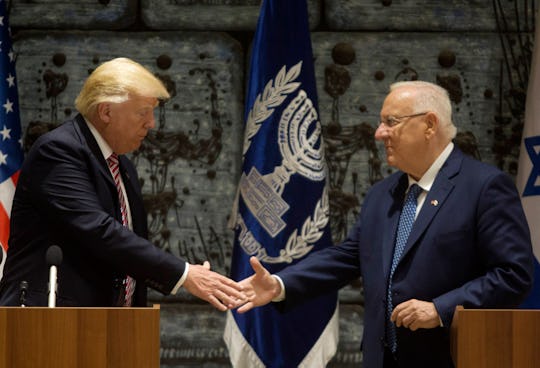 Lior Mizrahi/Getty Images News/Getty Images
What Did Trump's Western Wall Note Say?
Following his Sunday meeting with Arab leaders in Saudi Arabia, President Donald Trump made a stop in Jerusalem Monday, and became the first sitting U.S. president to visit the Western Wall, one of Judaism's holiest sites. According to NBC News, the president arrived wearing a yarmulke, and was joined by his wife, First Lady Melania Trump, his daughter and assistant Ivanka Trump, and his son-in-law and senior adviser Jared Kushner. During the visit, the president stood alone for a photo op, and touched the sacred wall for a few moments before placing a note inside. What did Trump's Western Wall note say? It's unlikely the details will be revealed, but that hasn't stopped many of people on Twitter from guessing — and poking fun at the president in the process.
According to The Telegraph, Trump's visit to the Middle East is thought to be part of the president's desire to negotiate a peace deal between Israel and Palestine. After landing in Tel Aviv, Trump told reporters that his visit with Muslim leaders in Saudi Arabia a day prior had given him "new reasons for hope," and that he believed there is "a rare opportunity to bring security and stability and peace to this region and to its people."
Not everyone was convinced though. While some lauded Trump's visit, others saw it as disrespectful, or as being little more than another example of the president playing a role for the cameras. And given Trump's penchant for outrageous or unintentionally hilarious commentary — especially on Twitter — it wasn't exactly a stretch for some Twitter users to imagine just what his secret prayer note might have actually said.
Some suspected he may have left a love note for Russian President Vladimir Putin:
While others thought he may have still had the election results on his mind:
Then, of course, there were the tweets suggesting that the Western Wall would have inevitably caused Trump to think about his plan for a wall of his own closer to home:
Or maybe perhaps he just took a shot at President Barack Obama?
In fact, while Trump was the first sitting POTUS to visit the Western Wall, Obama did in fact make the trip in 2008, back when he was a senator. And it turned out that the public didn't have to guess what he may have written: according to TIME, Obama's note was reportedly taken out of the wall by an orthodox seminary student and published in Tel Aviv's Maariv newspaper.
Written on hotel stationary, Obama appeared to ask for protection for himself and his family, and for guidance "to do what is right and just."
According to NBC News, former Presidents George H.W. Bush, Bill Clinton, and George W. Bush have also visited the Western Wall, either as private citizens or as political candidates. But though Trump made his visit as POTUS, he was not joined by Israeli Prime Minister Benjamin Netanyahu — primarily because the United States doesn't actually officially recognize the Western Wall as being part of Israel. And it doesn't seem as though the Trump administration was ready to clarify its position on the matter either.
In the lead up to Trump's visit, tensions grew between American and Israeli officials over Israel's ability to participate in the event, according to ABC News, and after the Trump administration turned down the Israeli government's request to have Netanyahu accompany Trump, a junior U.S. official reportedly controversially stated that the Western Wall was considered part of the West Bank, and not of Israel. When White House National Security Adviser Gen. H.R. McMaster was asked about the matter Tuesday, he "twice refused" to comment on whether he considered the Western Wall to be part of Israel, while White House Press Secretary Sean Spicer would only say that the Western Wall was "clearly in Jerusalem," which it obviously is.
The only person seemingly willing to give an actual opinion on the matter? U.S. ambassador to the U.N. Nikki Haley. According to ABC News, Haley told the Christian Broadcasting Network on Tuesday that she wasn't sure about the official policy of the Trump administration, but said,
I believe the Western Wall is part of Israel and I think that that is how we've always seen it and that's how we should pursue it … We've always thought the Western Wall was part of Israel.
Trump's Western Wall visit may have been controversial, but then again, so much of Trump's presidency is already controversial that it would have been kind of surprising if his visit to the Middle East hadn't ruffled any feathers whatsoever. It's somehow strangely comforting to know though that, regardless of whatever the president might be saying or doing, at the very least there will always be social media to lighten the mood.