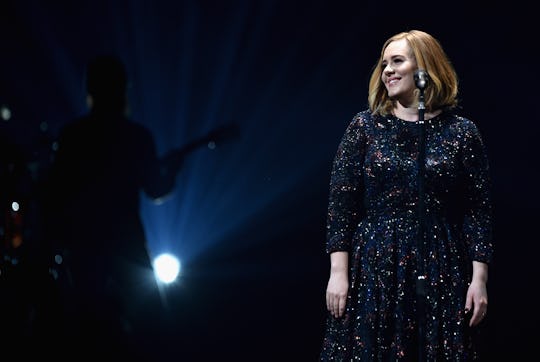 Gareth Cattermole/Getty Images Entertainment/Getty Images
What Do Adele's "Send My Love" Lyrics Mean? It's About Letting Someone Go
During the Billboard Music Awards on Sunday night, Adele took advantage of the captive music-loving audience to debut her new video for her very catchy single, "Send My Love (To Your New Lover)." The music video was directed by Patrick Daughters, who has collaborated with the likes of the Yeah Yeah Yeahs, Muse, and Kings of Leon. Like the song, the video is pared down — it's just Adele in front of a black background; the artistic decision puts Adele's voice and the lyrics at the forefront. So what do Adele's "Send My Love" lyrics mean?
Adele released her third album, 25, last November, and it is was no surprise that it was number one on the Billboard for 10 consecutive weeks. Adele's fans are some of the most devoted, and with good reason. She is a consistent show-stopper, as oxymoronic as that sounds, and nearly every song on that album could have been a single. After the record-breaking "Hello" and "When We Were Young," this latest single provides a welcome bit of levity. It's not a lamenting power ballad; it's a pop anthem, full of vocal fanfare and declarations of freedom. The song was a collaboration among Adele and the Swedish song-writers Max Martin and Shellback (Karl Johan Schuster), according to Us Weekly. Adele reached out to the duo after she heard Taylor Swift's "Trouble" and wondered, "'WHO wrote that?!'"
Though the song was a collaboration, Adele has gone on record saying that it feels very personal and draws directly from a past breakup. During an iHeartRadio interview, she was asked about the ex referred to in this song. In typical Adele fashion, she waved it off. "I'm in the best place ever," she said. "I have no idea where he is now." The lyrics themselves reflect that same sentiment.
This was all you, none of it me
You put your hands on, on my body and told me
Mmm, told me you were ready
For the big one, for the big jump
I'd be your last love, everlasting, you and me
Mmm, that was what you told me
In the first verse, Adele sets the scene. In this relationship, it's clear that things were a bit one-sided. Someone who said they were ready for love actually wasn't. That's always a recipe for disaster.
Send my love to your new lover
Treat her better
We've gotta let go of all of our ghosts
We both know we ain't kids no more
The chorus is much more triumphant. Rather than looking back on the relationship, it looks forward. It asks the lover, whoever it is, to do better next time, to learn from mistakes, and to move on. Adele sings, "We both know we ain't kids no more," as if to say it's time to grow up and stop dwelling on all this.
I'm giving you up
I've forgiven it all
You set me free, oh
Adele repeats these lines throughout the song, affirming that this is indeed a breakup anthem. She's moved on, and she's free. She's even forgiven the lover for whatever happened way back when. That's a tough thing to do, and definitely worth celebrating.
At the moment, Adele is performing this song, and others, on her sold out tour of Europe. The North American leg of that tour starts July 5. If fans want to see this song live, they should get tickets quick. They won't last.