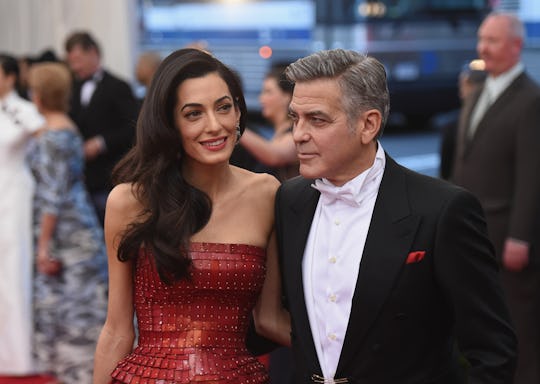 Mike Coppola/Getty Images Entertainment/Getty Images
What Do Amal & George Clooney's Twins' Names Mean?
Amal and George Clooney welcomed their twins Tuesday morning and the names, Alexander and Ella, were announced to the world. But since they're pretty specific names, it begs the question: what do Amal and George Clooney's twins' names mean? Back in January, In Touch Weekly reported that the couple had chosen Nicholas, after George's father, for their son, but obviously something changed along the way.
Although it's not clear yet how the couple chose the names for their new babies, George did joke with Entertainment Tonight back in March about naming the twins after his tequila company, Casamigos, but even then didn't spill what the twins' names would officially be. "My wife says I can't name them Casa and Amigos," he said at the time. "That's the one thing I'm not allowed to do."
Really, the couple has been pretty quiet about the details surrounding Amal's pregnancy and it was their pal Cindy Crawford who accidentally released the info that the couple was expecting both a boy and a girl. So it's no wonder that their twins' names, which are so adorable, by the way, were a surprise up until this point.
With what is known about the families of George and Amal, it doesn't look like their twins' names came from a family member, but I also find it hard to believe that they chose them at random from one of the many baby name books out there.
George met Amal, a human rights lawyer, in 2013 and the couple married the following year. Since then, they've been the picture of a devoted and happy couple and the arrival of George and Amal's twins now makes that union even larger.
The official announcement from the couple's spokesman, according to USA Today, read:
This morning Amal and George welcomed Ella and Alexander Clooney into their lives. Ella, Alexander and Amal are all healthy, happy and doing fine. George is sedated and should recover in a few days.
The couple's baby boy, Alexander, has a name of Greek heritage that means defender of men, which is a pretty strong name to have, but makes sense, given the family the little guy was born into. And Ella is an English name that means beautiful fairy, so if the meanings behind the names were the reason for the couple choosing them, you can see why.
Regardless of where they got the names, I think it's pretty much the consensus that George and Amal went with beautiful ones that both have special meanings.