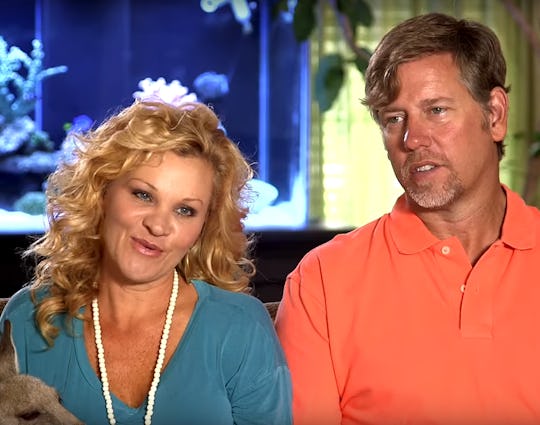 TLC/Youtube
This Is How The Couple On 'Our Wild Life' Is Making A Living Every Day
Some people might say they love animals, but not many would be able to live with them the way the Abrams family does. The newest reality series from TLC, Our Wild Side, follows the family and their entourage of over 80 exotic animals, following their everyday, unconventional lifestyle. As much as I wish it could, caring for animals can't really pay the bills, so exactly what do Bobbie Jo and Jerry Abrams do for a living?
Actually, it turns out that Bobbie Jo's love for animals does provide her a source of income. As reported by the Rocky Mount Telegram, the Abrams have turned their huge 16-acre property in Pinetops, North Carolina into a petting zoo called It's A Zoo Life. The zoo charges a small admission fee and allows visitors to meet and learn about the animals. In some cases, they can even pet them! It's A Zoo Life is home to over 85 exotic animals, according to their website, they are constantly expanding and adding more animals.
While Bobbie Jo is the driving force behind the petting zoo, her husband Jerry runs his successful business as well. According to The News and Observer, Jerry owns a well-established restaurant and catering chain, with six locations throughout North Carolina. The catering business, called Abrams, was started by his father, Gerald Abrams in 1975, and according to the company website, it has grown into one of the largest catering companies in the Southeastern United States.
But as vastly different as Bobbie Jo's job is from Jeremy's, it was actually his catering business that inspired her to start a petting zoo in the first place. The Rocky Mountain Telegram reported that when Jeremy got a catering gig that required a petting zoo as part of the entertainment, Bobbie Jo rounded up a few animals, including ducks and horses, to set up the amusement.
In an interview with The News and Observer, Bobbie Jo said that soon after setting up that initial petting zoo, she went on to tons of animal research, and then went on to become licensed by the USDA, which gave her access to tons of networks where she could find more animals. She told the outlet that many of the animals she gets are special needs, and added:
"I got on the radar for rescues, and that was a huge blessing because when that happened, then I started getting calls and I got my baby camel, I got a couple of kangaroos that way. With exotic breeders, if the animal isn't perfect, that's the first one they get rid of. And some of them have special needs, and they're amazing."
The new TLC series will follow Bobbie Jo and Jeremy, along with their kids and their nanny, Naa Naa, who already seems to warrant her own spin off. Not only will you see the family in action, you'll get to see many of their animals in and out of their home, including a goat, a lemur, kangaroos, piglets, a camel, a zebra, and a gray wolf. People might be quick to judge Bobbie Jo's lifestyle after seeing animals traipse through her house on the show, but she accredits that to over exaggerated editing and mentioned:
"Will people think, 'Oh my gosh, is this lady an animal hoarder? Are there really mounds of dookie out the back door? Are they living in these conditions?' It's not like that. That's some of the stuff that's over the top. Like the goat doesn't come in (except when he was a baby, and then he wore diapers). The pigs are potty-trained. A lot of them do start out as babies in the house. As they get older and they are not potty-trained, trust me, they get evicted. But in all honestly they do start out in the house as babies, and there's a lot of cleaning."
If you're planning on visiting It's A Zoo Life, you should know that its open only by appointment. But unlike conventional zoos, you'll actually get a chance to interact with the animals, including the zebras and kangaroos. In her interview with The News and Observer Bobbie Jo mentioned:
"I want (visitors) to know we're small, but we have amazing animals and they're exotic and they're super socialized, so you can have encounters and touch them and get pictures with them."
If you can't make it out to the zoo in North Carolina, no worries, because you can catch all the wild and crazy action on Our Wild Life, which airs Tuesday nights at 10 p.m. Eastern time on TLC.