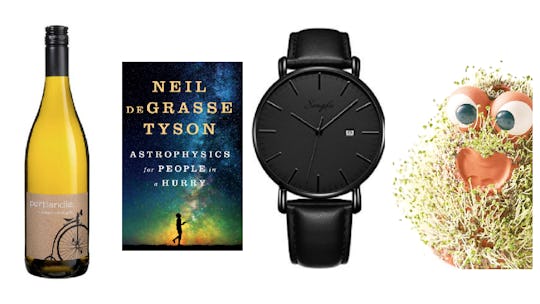 Wine-Searcher, Amazon, Urban Outfitters
13 Quirky & Cool Valentine's Day Gifts For Every Type Of Dad
When it comes to gift-giving, some dudes are notoriously difficult to shower with gifts. If this sounds familiar, then you're probably stuck with the same question every year: What do dads want for Valentine's Day? Do they even care? Probably. These potential presents will give you plenty out-of-the-box ideas for the dudes in your life.
If your dad falls into that impossible-to-buy-for category, then some less traditional gifts may work perfectly for Valentine's Day. Whether these presents tend toward the geeky, the funny, or the plain weird, they're all pretty great. I mean, no one is going to forget the year you gave dad a bug-eyed Chia Pet for Valentine's Day. But also, don't give up on all traditional gifts for the choosy dude. Some fine chocolates, or even a fun tie, will be welcomed by many a dad and make fine Valentine's Day gifts for men. It all depends on how your own father's personal tastes.
And if it feels like the Valentine's Day celebrations get a little larger each year, you're spot on. The average annual spending for Valentine's Day is around $13,290,000,000, as reported by Statistic Brain. This spending is likely most generated by couples, but plenty of presents are given to other family members, kids, friends, and coworkers alike. So if you want to give your dad a little token of affection on this holiday, then you're also in good company.