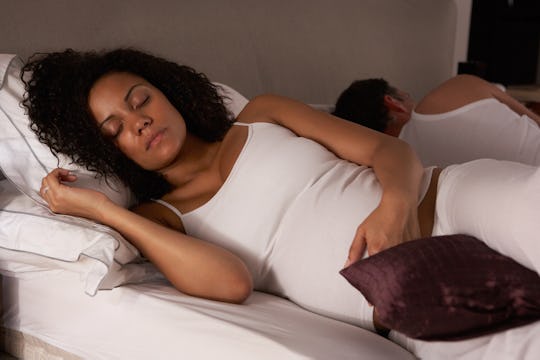 Monkey Business/Fotolia
What Do Dreams During Pregnancy Mean? 5 Types You May Have
You find yourself wandering alone in an unfamiliar, dark place, when suddenly you realize you're not you, but a giant fish swimming through a murky river. Then you wake up to the familiar sights and sounds of your bedroom. Have you ever been startled awake by a bizarre dream and wondered, What the hell was that about? Strange and vivid dreaming can happen to anyone, but when pregnant women have larger-than-life dreams, they may wonder what do dreams during pregnancy mean.
According to Patricia Garfield, author of the book Women's Bodies, Women's Dreams, the dreams women have while pregnant change as their body changes with each trimester, and also relate directly to the bodily changes that are occurring. This means that the dreams of a newly pregnant woman will most likely express different worries and have different symbolism than the dreams of a woman a few weeks away from giving birth.
Although dreams are as unique to each person as their own fingerprint, there are some common dreams that occur for pregnant women. So if you are pregnant and have been dreaming that you have given birth to a litter of kittens, you're not alone! Here's your guide to understanding what those whacky pregnancy dreams are trying to tell you.