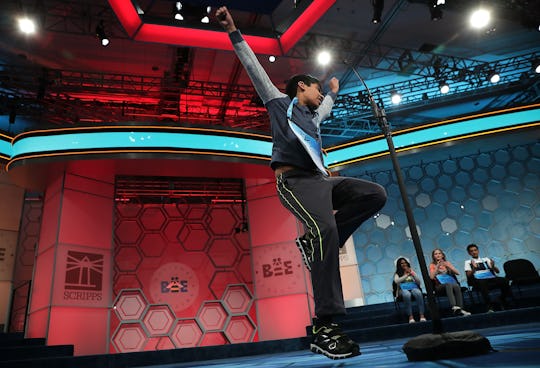 Alex Wong/Getty Images News/Getty Images
What Do Feldenkrais & Gesellschaft Mean? The Scripps Winning Words Were Tough
For the third year running, the Scripps Spelling Bee has ended in a tie. On Thursday night, 13-year-old Jairam Hathwar and 11-year-old Nihar Janga became co-champions of the 89th Annual Scripps Spelling Bee. After all the phonemes, cracking voices, and nervous giggles, Jairam and Nihar each go home Thursday night with a $40,000 cash prize. And it's all thanks to Feldenkrais and gesellschaft — the Scripps Spelling Bee winning words. What do Feldenkrais and gesellschaft mean?
Feldenkrais is a noun that is trademarked system of aided body movements created to raise body awareness and ease tension while gesellschaft is a German word that loosely translates to community and society. Yeah — I totally knew that. *Glances around nervously....*
Feldenkrais and gesellschaft each join a tradition of such tongue-tying winning words like stichomythia, scherenschnitte, and guetapens. The official source list of words for this year's Scripps Spelling Bee comes from Webster's Third New International Dictionary. The creation of those lists each year is a tradition unto itself: The Scripps Spelling Bee word committee works in secret to work their linguistic magic to come up with a list of challenging words. In an interview with TIME Magazine, E.W. Scripps Company spokesman Chris Kemper said, "The committee is the secret sauce of the spelling bee."
#SpellingBee fans following on Twitter had their own opinions and reactions to each of the winning words:
It was a dramatic, nerve-wracking, nail-biter of a night as spellers asked Dr. Jacques Bailly — the official pronouncer of the Scripps Spelling Bee and 1980 champion speller — for everything from word origins, to definitions, to usages in a sentence. One speller, 13-year-old Snehaa Kumar, asked Bailly just to repeat her word five times in a row. (In case you were wondering, Kumar's word was "soogee," a word of Japanese origin meaning "to wash down.")
But it would all come down to the 25th round between the two young finalists. As Bailly confirmed that Hathwar had spelled Feldenkrais correctly, the 13-year-old knew that he could put "champion" next to his name. Once Janga correctly spelled gesellschaft, the confetti rained down from the ceiling as the boys raised their fists into the air and hugged each other. There's nothing quite like watching spelling bee winners breathe the biggest sigh of relief of their lives.
For this year's Scripps Spelling Bee, the path to victory is paved with Feldenkrais and gesellschaft — now say that five times fast.