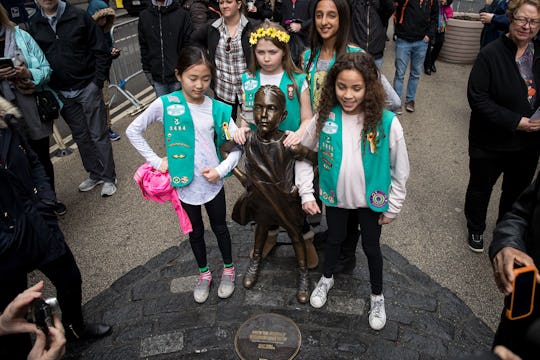 Drew Angerer/Getty Images News/Getty Images
Actually, Girl Scouts Learn A Lot More Than You Think From Selling All Those Cookies
I'm a mom of four boys. My days are filled with superheroes, remote control cars, and flatulence jokes. Although clearly I was a little girl myself once, I sometimes feel mystified around my friends' daughters. It's a language I no longer speak. But like every good American, I love Girl Scouts for the cookies alone. One bite of a refrigerated Thin Mint takes me back to childhood, and I will happily shell out five bucks for the nostalgia. Yet as a boy-mom, I know next to nothing about the purpose behind the fundraiser. What exactly is the point? What do Girl Scouts learn from selling cookies? I turned to a few veterans to find out.
"Every box of Girl Scout cookies provides so much more than just a delicious treat," says Sara Rowan, Director of Girl Experience for the Girl Scouts of Central and Western Massachusetts. In an interview with Romper, Rowan enthusiastically explains that "the girls who sell Girl Scout cookies work on skills that translate to all areas of their lives, including goal setting, money management, and people skills."
Rowan tells Romper that Girl Scouts have made a catchy acronym that summarizes what they hope their young females will become through not only the cookie fundraiser but the entire organization: G.I.R.L.s, which stands for Go-getters, Innovators, Risk-takers, Leaders. "So the next time you purchase a yummy box of Thin Mints, know that you are helping to transform girls into G.I.R.L.s," Rowan says.
Girl Scout alum Ashley-Victoria Smith, CEO and founder of Descalzo Shows, says she feels the organization does tremendous things for building a young girl's character. "I was a Girl Scout from fifth grade well into college and even became a camp counselor," Smith tells Romper. "Selling ​cookies helps young girls with communication, finance skills, and goal setting."
Wondering how exactly selling boxed cookies could accomplish such lofty ideals? Girl Scout leader and mom of two Scouts Cam Bowman chatted with Romper about what she's seen in her five years with the organization. "The point of the sales is to generate money for volunteers, training, and camps. The girls learn how to be business owners; they learn to run a small business on their own," Bowman explains. "Girl Scouts is girl-lead. Each troop will create a sales goal, marketing plan, and must decide how they will spend and donate their sales revenue."
In a post on her personal blog, Bowman elaborated on how selling Girl Scout cookies has empowered her daughters. Among other things, she wrote, "My child is learning how to set goals, work towards them, and either obtain them or not. If they reach a goal, fantastic. If not, how can they adjust their goals to reach them next time? Our girls are entrepreneurs. Once they set a goal, they figure out a sales plan. How are they going to market and sell cookies and where? They get creative, manage money, and take pride in achieving what they set out to do."
In a time when gender inequality in the workplace is garnering national attention, the work that Girl Scouts is doing might be more important for the future than we give it credit for. Raising up a generation of girls who have years of business savvy before they even graduate high school can only elevate the qualification of women to receive equal pay and equal opportunities in the workforce.
Not every young Scout will grow up to enter a business field, of course; but each one will grow up with confidence, organizational skills, experience reaching goals, and a history of community involvement.
That's more than worth a box of Thin Mints.
Check out Romper's new video series, Romper's Doula Diaries:
Watch full episodes of Romper's Doula Diaries on Facebook Watch.