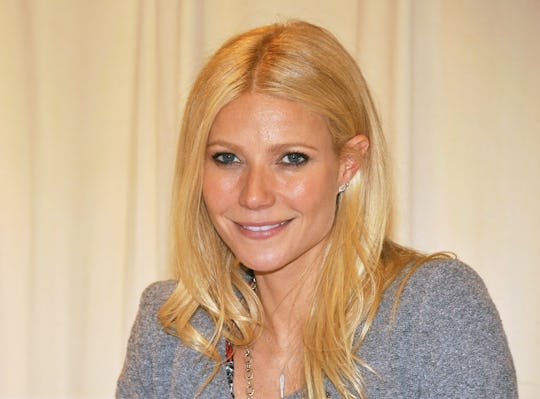 Slaven Vlasic/Getty Images Entertainment/Getty Images
Here's What Gwyneth Paltrow's Kids Look Like Now
Have you ever walked around your house barefoot, covered in healing stickers, drinking a warm mug of goat's milk, and wondered, What do Gwyneth Paltrow's kids look like now? No? It's just me? Weird...
OK, not as weird as putting a $55 jade egg in your vagina, but I swore people just randomly thought about what an actor's kid looks like grown-up. After all, this is a celebrity-obsessed society; there are websites dedicated to celebrity babies and kids. It would just make sense.
But I digress. Back to Gwyneth Paltrow's children. After gulping the rest of my cleansing goat's milk, I sat down at my desk and hastily typed "What do Gwyneth Paltrow's kids look like now?" into the Google search bar. Turns out, Apple and Moses Martin are entering their teen years now, according to The Sun. Honestly, I have never felt so old.
Why? Because I remember when news broke that Paltrow gave birth to Apple, her first child with Coldplay frontman and then-husband Chris Martin in 2004. I was working as a sale associate at Sam Goody (it used to be a record store chain. You wouldn't understand), and Coldplay's second album, A Rush of Blood to the Head, was still selling out.
At the time, I was 21 years old. In less than a month, I will be 35. In May, Paltrow's daughter Apple turned 13 years old, according to Seventeen. It was just yesterday that people around the world were collectively scratching their heads, confused as to why a kid would be named after a fruit. (You could argue that Paltrow and Martin are the godparents of the weird baby name trend among celebrities. Late musician Frank Zappa would be the father.)
Now Apple is a young teenager and near-spitting image of her father. Where the heck does the time go?
To celebrate Apple's birthday on May 15, Paltrow shared a sweet message on her Instagram account with a rare photo of her now 13-year-old teen, according to In Style. The GOOP founder wrote in the caption,
Happy 13th birthday, you gorgeous human. You light up every room, my heart, the world. You. Are. Everything. I love you, schnapps.
Later that day, the 45-year-old actor shared a Boomerang to Instagram showing Martin, Paltrow, Apple, and her brother, Moses, at Los Angeles' Museum of Ice Cream, In Style reported. (OK, I need to stop for a second. There's a museum of ice cream?!) The family took a trip to the museum to not only celebrate Apple's birthday, but also honor Paltrow for Mother's Day.
A month later, the 45-year-old actor opened up to TODAY about raising a teenager, and her own challenges as a 13-year-old girl. She told TODAY, according to Hello,
I think being a 13-year-old girl sucks no matter what century. No matter what time frame, I think it's just hard. That was a really hard year for me. I was really trying to grow into this awkward, gawky body, which I think I half grew into.
It's not long before Paltrow and Martin have two teenagers on their hands. The co-parenting ex-couple welcomed son Moses in April 2006, which means he turned 11 years old this spring, according to People. Where Apple looks like dad Martin, Moses is a replica of his clean-living guru mother. Either way, the young Martins are both adorable.
As with Apple, in honor of Moses birthday, Paltrow wrote on Instagram, according to People,
Happy 11th birthday to the love of my life, the kindest, most brilliant boy of all time. I love you more than words could ever possibly express. #moses.
So there you have it. You know now what Gwyneth Paltrow's kids look like today. Now I am going to chew the rest of my spirit truffles while curling my 18K gold dumbbells.
Check out Romper's new video series, Romper's Doula Diaries:
Watch full episodes of Romper's Doula Diaries on Facebook Watch.