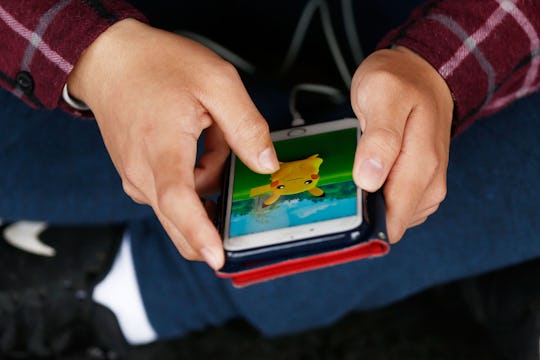 Brendon Thorne/Getty Images News/Getty Images
What Do I Use A Razz Berry For On 'Pokemon Go'? It Can Help You Catch 'Em All
"Pokemon Go" is one of the most popular and insanely addictive games around right now. The object of the game is to capture as many cute and creepy cartoon monsters as possible while you roam around your city or town and as you do you collect a bunch of other fun stuff as well, like incense you can use to attract Pokemon or potions you can use to heal yourself after a rough battle. Even though the object of the game is pretty straightforward, there's a lot going on. You may have come across cartoon batch of berries on your screen and wondered: What do I use a Razz Berry for on "Pokemon Go"? They're actually pretty useful when you just can't catch that particularly wild Pokemon you've been eyeing.
As you level up, you gain access to new tools that make your Pokemon hunt a bit easier and way more fun. Razz Berries are a wonderful tool to use once you've made it level 8. The good news is that they can be found in lots of places, or Pokestops, and are pretty easy to use once you've collected some. In "Pokemon Go," Razz Berries can help you catch some rare and wild Pokemon.
If haven't studied up on your Pokedex too much yet, you can know which creatures are more difficult to catch than others by looking at the color — green, yellow, orange, or red — that will appear when you hold down on a Pokeball after you've found a Pokemon nearby. When a Pokemon has an orange or red circle around it, you might notice they run away more than Zubat or Weedle. Those tough ones are where the Razz Berries come in handy. Even for Pikachu.
Here's how you can use a Razz Berry:
Find a Pokemon nearby and tap it so you can enter the screen where you can capture it.
When you would usually throw a Pokeball at the Pokemon, you'll want to tap on the backpack icon to enter your collected items.
If you've collected a Razz Berry after level 8, select one.
The Razz Berry, a purple cartoon bunch of berries, will appear on your screen instead of a Pokeball.
Toss the Razzy Berry at the Pokemon just as would with a Pokeball.
According to gaming and tech site AndroidAuthority.com, Razz Berries have a 100 percent hit rate, so they should work almost every time. But, not everyone has had such success with Razz Berries, so don't rely on them completely.
Razz Berries are a great resource to use when you find yourself in a long battle with a big and powerful Pokemon, even though some creatures have proven to be just too tough sometimes. As you level up, you can collect them at plenty of Pokestops just by roaming around and searching for more Pokemon. Razz Berries make your catch attempts a bit easier, so go off and collect 'em because you gotta catch 'em all!