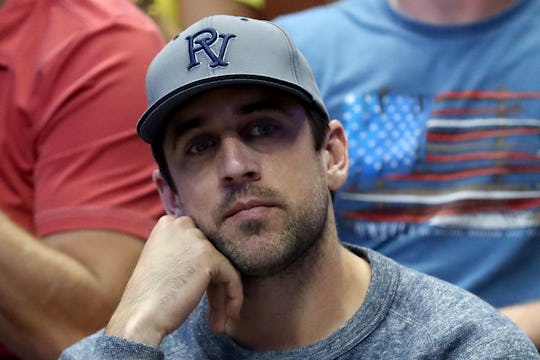 Sean M. Haffey/Getty Images Sport/Getty Images
What Do Jordan Rodgers' Parents Think Of Aaron Rodgers? They've Been Pretty Quiet
When Jordan confessed to JoJo on The Bachelorette that his family situation was less than ideal, it resulted in some real disappointment. And not just for Jordan – now the audience would never get to see JoJo try to play it cool around Aaron Rodgers and Olivia Munn! In all seriousness, it can be really hard when formerly close families find themselves on the outs for whatever reason. It seems like the Rodgers are pretty tight aside from mega-famous brother Aaron, so it's no surprise that it's tough on all of them to not have much of a relationship with him anymore. Jordan and his brother Luke got into their feelings on the show, but what about the parents? What do Jordan Rodgers' parents think of Aaron Rodgers?
Jordan and Aaron's parents, Ed and Darla Rodgers, haven't said a lot publicly about the tension in their family. As both Jordan and Luke said on The Bachelorette, it's just not a topic of discussion, probably because it's too painful. However, Ed did have something to say when JoJo asked him what he thought of the show and Jordan's decision to join it.
"It's kind of a weird environment to meet somebody. And our family's in the media a lot, and especially, you know, all the boys, especially one," Ed told her. "And fame can change you. But one thing I know about Jordan – he's so strong-willed. He's not gonna let that change him in any way, you know?"
Ed might not have been speaking of anyone by name, but it was pretty obvious that "especially one" referred to Aaron. There definitely seems to be a consensus amongst the family that fame had a big effect on Aaron and changed his relationship with his family. However, just a few short years ago in 2011, Ed was singing Aaron's praises in an interview with The New York Times. He spoke of Aaron's special gift for football, and even related an interesting tidbit about the brothers.
An old friend of Ed Rodgers attended one of Rodgers's sporting events and told Aaron afterward, "You're a really good player." As Ed Rodgers recalled: "Aaron was like: 'Yeah, but you should see my brother. He's better.' The gentleman turned to me and said, 'You know, that response is really rare.'"
While it's unclear just which brother Aaron was referring to there, it's obviously an anecdote intended to relay his humility and it speaks to what was once a good relationship between the brothers. Though Jordan confessed to JoJo that he always struggled with feeling second-best, it looks like Aaron used to share credit fairly easily.
It seems like whatever happened within the Rodgers family happened very recently (the last year or two, according to JoJo), but Aaron was successful before that, so what changed? Perhaps something specific happened that the family is keeping quiet about (which is, of course, their right) or perhaps there was years-long tension building that finally boiled over. The only way audiences will get to know the truth is if one of the Rodgers spills the beans, so hopefully Jordan is feeling chatty during the After the Final Rose special.