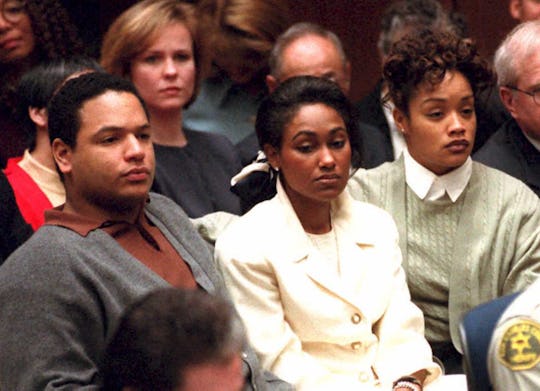 Rick Meyer/AFP/Getty Images
What Do OJ's Kids Think About 'The People V. OJ Simpson'? They're Staying Far Away From The Spotlight
So, it seems like everyone has something to say about The People vs. O.J. Simpson, the first season of FX's American Crime Story. With the series premiering on Tuesday, everyone from the Kardashians to the Twittersphere have sounded off already. And since the whole debacle was dubbed "the trial of the century," the interest surrounding the '90s debacle isn't too shocking. The trial disrupted many people's lives, and Simpson and Nicole Brown Simpson's families and children have all but disappeared from public view. Just what do Simpson's kids think about The People v. O.J. Simpson? They haven't spoken out, and viewers shouldn't expect them to.
Jason, Justin Ryan, Sydney Brooke, and Arnelle Simpson, Simpson's four children, have mostly stayed out the public eye since Simpson's acquittal in the the 1995 murders of Nicole Brown Simpson and Ron Goldman, who were found dead in Brown Simpson's California condo in 1994. However, Brown Simpson's sister, Tanya Brown, talked about The People v. O.J. Simpson and how the family has fared since her death. "Losing Nicole was painful for me of course, but seeing my parents — and the kids – go through what they went through was horrendous. That was my pain, really," she told People.
"They are so grounded," Brown said, referring to Brown Simpson's and Simpson's children, Sydney and Justin. Concerned that the series will depict Brown Simpson in an inaccurate light, Brown said that she is "so proud of what and who they become."
Though Brown's words weren't even a secondhand account of something the kids said, it's safe to assume that Simpson's kids, for the most part, are trying to move on from the ordeal. However, there is no shortage of people connected to the trial talking about the FX series. One child who is speaking out is the daughter of defense attorney Johnnie Cochran. Tiffany Cohran Edwards reflected on the trial in light of American Crime Story hitting the small screen on Tuesday in a Facebook post.
"As the trial drew to a close my parents begged me to quit and come home. My standard line then was 'I was a journalist long before O.J. was a defendant and I'm not going anywhere..I'm going to ride this thing out,'" Edwards, who is the Cochran Firm's National Brand Manager and Public Relations Director wrote, according to Cocoa Fab.
She can definitely relate to how Simpson's kids felt being thrust into a controversial trial. In the same Facebook post, she also recounted the backlash she and her family received both before and after the verdict:
During the trial and subsequent verdict, my life was turned upside down...the amount of vitriol directed at me because people disliked my father was unimaginable[...]I was extremely active in my community and soon a trip to the grocery store became agony because people were sooo upset and felt like they could take it out on me.
Simpson's trial is undoubtedly a charged topic even decades later. However, Simpson's kids have every right to live private lives. After all, they definitely had no role in the entire thing and they can't — and shouldn't — be held responsible for what their father did or didn't do. Cuba Gooding Jr., who plays Simpson in the series, told E! News he hopes The People vs. O.J. Simpson will help the family "find some peace," and it might be best if fans of the series adopt a similar mindset before watching.