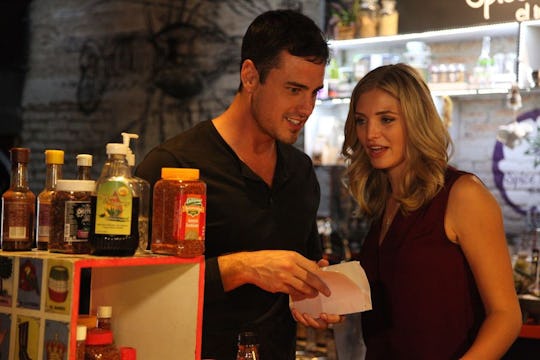 ABC
What Do Olivia's Former Co-Workers Think Of Her On 'The Bachelor'? They Sound Positive
One of the standout contestants in this season's The Bachelor is news anchor and reporter Olivia Caridi. There have only been four episodes this season, but she's already won the first impression rose, gotten a perfect match with bachelor Ben Higgins at the love lab, declared that Ben is hers and that the show should end, and caused many of the other women to feel threatened. Caridi seems so engaged in the show that it's easy to forget that she has another career entirely as a news anchor. So it's fair to ask, what do Olivia Caridi's former coworkers think of her role on The Bachelor?
So far we've seen Caridi take real risks on The Bachelor. Not only is she willing on infringe on other women's time with Ben in an effort to see her relationship with him progress, she went for it in Episode 4 by jumping out of a cake in a red spangled Vegas show girl outfit and demonstrating her less-than-Julliard worthy dance moves before a live audience. This is all especially notable considering that Caridi's day job requires total polish and composure.
Before joining the show, Caridi, who is from Austin, TX, anchored the weekend 6 p.m. and 11 p.m. news for WCYB News 5, a local news station serving Bristol, Virginia; Kingsport, Tennessee; and Johnson City, Tennessee. According to Caridi's WCYB bio, she also did the 10 p.m. news on Fox Tri-Cities, which serves the same area. She also reported on the 5 p.m., 5:50 p.m., and 6 p.m. WCYB newscasts during the week.
Caridi announced during the season premiere of The Bachelor that she left her job to join the show, but her bio remains live on WCYB.com. So what do her fellow journalists and former coworkers think? It seems she is still in touch with at least three of her coworkers, according to her Twitter exchanges, and they seem very supportive of her in the Bachelor phase of her career. (None of her former coworkers have replied to comment on her appearance in The Bachelor just yet.)
In early December 2014, Kristen Quon, who was formerly a reporter and producer at WCYB and is now a reporter at WJHL, another local Tri-Cities news station, tweeted at Caridi that she missed her. Caridi responded, "Miss you so much. I'll be there before you know it!"
(Caridi is also apparently a big fan of Quon's bulldog, Tuggle.)
Caridi also seems to be close to WCYB News 5 reporter Cassandra Sweetman. In December Caridi tweeted praising Sweetman's Star Wars: The Force Awakens coverage and calling Sweetman her best friend:
Sweetman responded by liking Caridi's tweet.
And Olivia Bailey, a WCYB anchor and reporter, had positive things to say about Caridi and The Bachelor on Twitter. In an early January tweet that suggested she is getting a lot of messages meant for Olivia Caridi, Bailey acknowledged that Caridi is a coworker and said The Bachelor seems fun.
Finally, a TCU graduate name David Cohen who also claims to be a former coworker of Caridi tweeted his support for Caridi before the season began:
It's not clear where Cohen and Caridi worked together, but I'm sure she appreciates the support.
The next big question is whether Caridi will go back to WCYB after her stint on the show, whether she ends up engaged to Ben Higgins or not. It seems like several members of the Tri-Cities gang will be ready to welcome her back if she does.