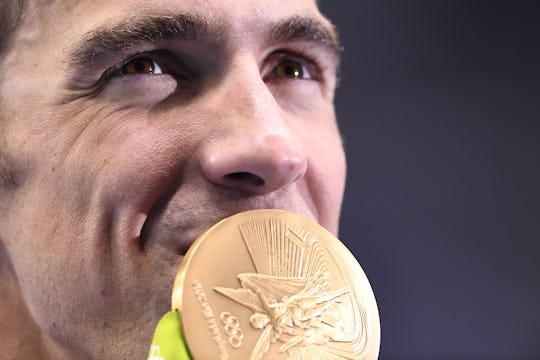 GABRIEL BOUYS/AFP/Getty Images
What Do Olympians Do With Their Medals After The Olympics? They Don't All Go Into A Safe
Long after the prize money is spent and the endorsement deals dry up, Olympic athletes will still have their medals. But what exactly do Olympians do with those medals? Keep them in a safe? Many of them do, but not all. According to ABC News, basketball player Sue Bird has kept hers in a variety of places, from her underwear drawer to her mom's house to a safety deposit box at the bank. Those do seem to be the most popular spots; runner Tommie Smith keeps his "in a vault somewhere in Texas," and Today reported that speed skater Apolo Ohno keeps his eight medals at his dad's house. But some athletes are a little more... creative.
If Michael Phelps, for instance, wanted to keep all his medals in a bank vault, he'd probably have to buy the entire bank. Phelps has more medals than he knows what to do with, clearly, so it shouldn't be that surprising to learn that he keeps his eight gold medals from Beijing's 2008 Olympics in a makeup bag, wrapped up in a t-shirt, as he revealed to Anderson Cooper in a 2012 interview. Factoring in his Olympics, World Championships, and Pan Pacific medals, Phelps has won over 80, so I suppose we can forgive him for not treating every single one with reverence. All he does is win, win, win.
He's not the only one who isn't too careful with his medals, though. In 2008, Soccer player Christie Rampone told the Tampa Bay Times that she kept her gold and silver medals with her pots and pans, figuring that it was "the last place someone would look." Well, sure, Christie, that is, until you tell a newspaper reporter about it. Let's hope she's moved them since then. Caitlyn Jenner told Sports Illustrated that she keeps her 1976 decathlon medal with her nail polish. Shaun White misplaced his first gold medal twice, according to Yahoo. In a 2010 interview with Playboy, he recounted discovering it in the pocket of his mother's car, and leaving it at his agent's house.
And then, of course, there are the athletes who sell their medals. It may sound dodgy, but there are plenty of noble reasons to sell, and ultimately, it's their property to do with whatever they wish. According to Time, Mark Wells, a member of the 1980 "Miracle on Ice" hockey team, was forced to sell his gold medal in 2002 to pay for back surgery. His teammate, Mark Pavelich, sold his medal to provide for his family. And Ukrainian boxer Wladimir Klitschko sold his 1996 medal for a cool million, all of which went to the children's charity he founded with his brother. Olympic medals take a wide variety of paths, but I can't think of a better one than that.