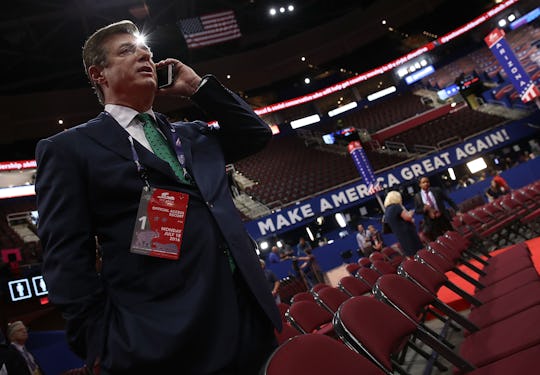 Win McNamee/Getty Images News/Getty Images
What Do Paul Manafort's Ties To Ukraine Mean?
During one of the tense, televised presidential debates ahead of the Nov. 8 election, former Secretary of State Hillary Clinton claimed that President Donald Trump was Russian President Vladamir Putin's "puppet" — a claim he immediately denied. But months into Trump's presidency, allegations of illegal ties between members of Trump's team and the Russian government have become major headline news. One such tie was rumored to involve Paul Manafort, Trump's one-time campaign chairman, after Manafort's name was linked to dollar amounts allegedly found in a handwritten ledger in Ukraine. Now, according to the Associated Press, new financial records appear to confirm that Manafort received at least $1.2 million in off-the-books payments. But what do Paul Manafort's ties to Ukraine mean, and are they linked to the ongoing investigation of Russian hacking? Manafort's representative did not immediately respond to Romper's request for comment.
Firstly, it's important to note that the most recent discovery about Manafort doesn't necessarily have anything to do with Trump directly. Although the discovery of Manafort's name on pro-Russia Ukrainian President Victor Yanukovych's so-called "black ledger" last August ultimately led to Manafort offering his resignation from Trump's presidential campaign, according to ABC News, the money was allegedly paid out to him in 2007 and 2012, long before he became involved with the Trump campaign in March 2016. At the very least, though, there's no question it makes the already-questionable understanding of U.S.-Russia relations even murkier.
At the time of Manafort's resignation, Clinton's campaign manager Robby Mook took the opportunity to note that Manafort's ties to the black ledger were too important to ignore. According to ABC News, Mook said,
Paul Manafort's resignation is a clear admission that the disturbing connections between Donald Trump's team and pro-Kremlin elements in Russia and Ukraine are untenable. But this is not the end of the story. It's just the beginning. You can get rid of Manafort, but that doesn't end the odd bromance Trump has with Putin.
At the time, Mook's rebuttal appeared by some to be an example of political posturing, but now it appears that there really is a lot of crucial information that needs to be seriously investigated. Because, while Manafort had initially claimed that the ledger was fake and that the idea that he'd been paid any money by the Ukraine government was "unfounded, silly and nonsensical," he's since admitted in a statement to the AP though that he did, in fact, receive money, but noted that the wire transactions were "legitimate payments for political consulting work."
Prior to Manafort's involvement with Trump, he actually did work as an international political consultant for Yanukovych's pro-Russia political party, and it was during that time that he allegedly accepted the off-the-books payments for his work. But now, Ukrainian officials are launching a corruption investigation, according to CNN, and have been attempting to question Manafort and his connection to it. They've even repeatedly asked the United States government for help in doing so, but seven separate appeals said to have been made by prosecutors in Ukraine have gone unanswered, including letters to FBI Director James Comey and the U.S. Department of Justice.
Complicating matters further, of course, is the fact that Manafort is also implicated in the United States government's current investigation into possible collusion between Trump associates and the Russian government during the 2016 presidential campaign. According to The Washington Post, both The New York Times and CNN reported that Manafort had communicated with Russian intelligence officials during the lead up to the election, but in February, Trump attempted to downplay the allegation. He said,
Manafort has totally denied it. He denied it. Now, people knew that he was a consultant over in that part of the world for a while, but not for Russia. I think he represented Ukraine or people having to do with Ukraine.
Except, well, that doesn't appear to be entirely accurate. In March, the Associated Press claimed that, prior to working for Trump, Manafort "secretly worked for a Russian billionaire" as part of a plan to "greatly benefit the Putin Government," and eventually signed a $10 million annual contract beginning in 2006 and possibly ending in 2009. When the news of the contract surfaced, White House Press Secretary Sean Spicer said that Trump had not been aware of Manafort's work in Russia, according to The Washington Post.
What does all of this extremely shady information actually mean for Americans? It's hard to say. What seems to be clear at this point is that Manafort has a lot of explaining to do, both to investigators in the Ukraine in terms of corruption, and to those in the United States, in terms of the role he may have had in the overall allegations of collusion between Russia and the U.S. Either way, given the massive significance of the allegations on both sides, it's clear that citizens have a right to know exactly what has gone on, and the effect it may or may not have had on the outcome of the election and its resulting policies.