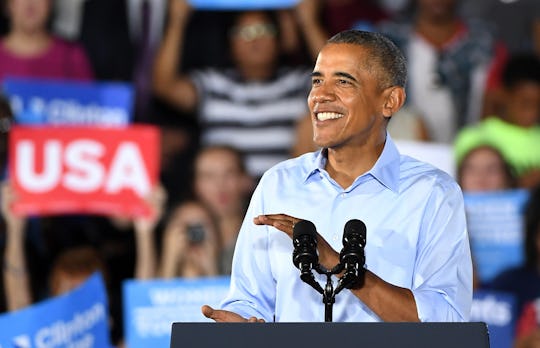 Ethan Miller/Getty Images News/Getty Images
What Do President Obama's Down Ballot Endorsements Mean? He's Campaigning For His Legacy
As Election Day approaches, President Barack Obama is offering help to tons of candidates for state offices across the country with ads, robocalls and campaign stops. With GOP candidate Donald Trump's base of support collapsing, Obama and the Democratic leadership hope getting the popular president to throw his weight behind some lesser known candidates struggling to make a splash in this contentious election cycle will pay off bigly. What do Obama's down ballot endorsements mean? He's trying to fill up state governments with Democrats to help seal his legacy and incubate new democratic policy ideas at the state level.
But besides that, Obama might be looking to settle a personal score with The Donald on Nov. 8.
Over the next week, Obama plans to endorse around 150 candidates in 20 states, according to Politico. Getting involved in state races hasn't been something Obama was willing to do in previous election cycles, but as pundits have said so many times before, this year is different. He's also planning to endorse about 60 candidates for the House by cutting ads and robocalls this week, according to Politico.
But why now? There are several reasons. First is legacy. Many of the laws and issues that gain national attention start off in state governments. According to Politico, Obama is concerned there isn't enough being done at the state level to craft policy that aligns with democratic values on issues including climate change and reproductive rights, according to Politico.
The second reason for these endorsements has to do with Obama's post-White House plan to join with former Attorney General Eric Holder to work on pushing back against Republicans' redistricting efforts through a new group called The National Democratic Redistricting Committee, according to the Washington Post. The idea is that the Republicans have drawn district lines so that candidates must meet hard-line far right policy positions in order to retain their seats. The result has been an unwillingness, or inability, on the part of GOP lawmakers to engage in any sort of compromise out of fear they would lose their re-elections in ultra-right-wing districts, something Obama said has contributed mightily to the gridlock holding Washington D.C. hostage, according to the Washington Post.
"Over the past eight years the president has seen first-hand Republicans pulled to the far right for fear of a primary challenge instead of trying to govern from the center," White House spokesman Eric Schultz said, according to the Post.
More state legislators and legislation becoming successful is likely to translate into a more robust and diverse Democratic Party nationally.
Bust besides the political calculus that's behind Obama's work on behalf of state Democrats, it's hard to shake the feeling that much of this is personal for the outgoing president. Trump rose to political prominence peddling conspiracy theories about whether Obama was born in this country, suggesting his election was illegitimate. It was an insult First Lady Michelle Obama called out directly during her first campaign speech of the season for Hillary Clinton in September.
In the speech she gave in Fairfax, Virginia, she reflected on the mood of the country when her husband first took office, according to Mediate:
People had all kinds of questions about what kind of president Barack would be. Things like, 'Does he understand us?' 'Will he protect us?' And then of course there were those who question and continue to question, for the past eight years, up through this very day, whether my husband was even born in this country.
The Obamas, both master campaigners and speech givers, have been relentless in their criticism of Donald Trump on the campaign trail. On their way out of the White House, delivering the "Birther-In-Chief" a humiliating loss up and down the ballot on Nov. 8 would be a perfect book end to the entire mess for the Obamas. And who could blame them?