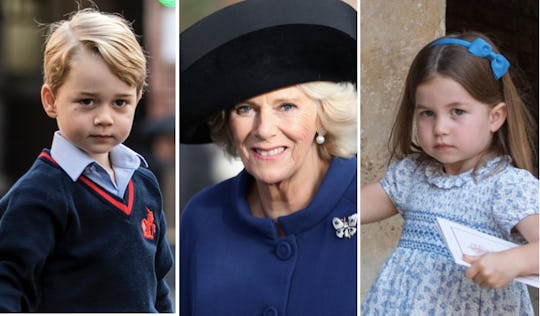 Chris Jackson/Getty Images Entertainment/Getty Images WPA Pool/Getty Images Entertainment/Getty Images
Prince George & Princess Charlotte's Nickname For Duchess Camilla Is Ah-dorable
Keeping track of what monikers different families use for each other is always interesting. There can be big differences across generations, but there's also differences across the pond, too. Fans of the royal family can't help but wonder, with all these titles to keep track of, what do Prince George and Princess Charlotte call Camilla Parker Bowles, their step-grandmother?
Pretty much anyone can attest to the fact that British English and American English are not exactly the same. Trying to sort out, for example, the differences, or similarities, between words like Mom and Mum have taken up quite a bit of time. So this question can get more complicated when you remember all the titles and traditions within the royal family.
Camilla Parker Bowles is also known as the Duchess of Cornwall. She is the current wife of Prince Charles. As outlined by her biography, she married Prince Charles in 2005, so that makes her the step-grandmother of Prince George, Princess Charlotte, and their new baby brother, Prince Louis.
After marrying Prince Charles, she earned the title, Duchess of Cornwall. Although that may be the title the public is supposed to use when referring to her, are those rules the same within the royal family?
Let's be real: keeping all of those titles straight is hard enough for adults. Imagine trying to keep all of those straight when you're only 5 and 3 years old. Plus, it's family, so if you've assumed that Prince George and Princess Charlotte aren't spitting out full titles at family gatherings, you're right.
Beyond that, as reported by Good Housekeeping, both of the young royals ditch traditional names like "grandma" or "granny". Instead, they opt for something with a little more flair.
In 2013, shortly after Prince George's birth, Duchess Camilla told the Daily Mail:
My own grandchildren call me GaGa. I don't know if it's because they think I am! It is funny but is still very sweet.
Before the youngest members of the royal family came along, Duchess Camilla had five grandchildren already, as reported by Good Housekeeping. The outlet reported that her son, Tom Parker Bowles, has two kids, while her daughter, Laura Lopes, has three.
Although it's not totally clear if Prince George and Princess Charlotte picked up "GaGa" as a nickname, it would make sense. And it's already playing into a name trend that the royals hinted at before.
In 2016, Kate Middleton revealed the nickname Prince George uses for the Queen. According to Hello! Magazine, Middleton said, "George is only two-and-a-half and he calls her 'Gan-Gan.' She always leaves a little gift or something in their room when we go and stay and that just shows her love for her family."
If Queen Elizabeth herself gets a nickname like Gan-Gan, Duchess Camilla probably has one, too.
Duchess Camilla isn't the only grandmother that the young royals have. As many know, Prince Charles was married once before. His previous wife, Prince William's mother, Princess Diana, died in 1997. At the time, Prince William was only 15 years old. It's hard to explain death to kids or the relevance of family members that are already gone. But, as Prince William revealed in the ITV documentary Diana, Our Mother: Her Life and Legacy, according to The Standard, he keeps his children reminded of "two grandmothers in their lives".
Knowing this, it makes more sense that Prince George and Princess Charlotte (and soon enough, Prince Louis, too) would have their own unique nickname for Duchess Camilla.
"GaGa" is definitely a one-of-a-kind nickname and adorable, too! Plus, it rolls off the tongue a lot easier than "Duchess of Cornwall."