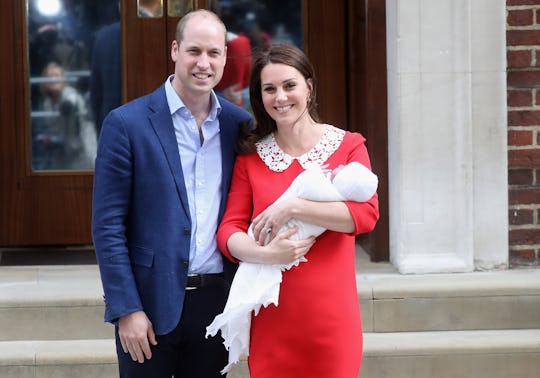 Chris Jackson/Getty Images Entertainment/Getty Images
It Sounds Like Prince George & Princess Charlotte Are Absolutely Loving Having A Baby Brother
At the same time that the world was blessed with a new royal baby, Kate Middleton and Prince William's other two children got a new sibling. The amount of excitement felt by Prince Louis' hoards of adoring fans certainly has nothing on the joy his family is experiencing. But just what do Prince George and Princess Charlotte think of having a baby brother? It sounds like they are just as ecstatic as one would expect given the circumstances.
The Duchess of Cambridge gave birth to her third child with Prince William on Monday, April 23, and sent practically the entire world into a tizzy. Fans and followers of the royal family seem to have been talking of nothing else ever since. But of all of the people invested in the new baby, few seem as happy that the little prince made his arrival as his big brother and sister.
Unlike their father, according to CafeMom, Prince George and Princess Charlotte were not present for the actual birth, but visited their new baby brother shortly after he made his arrival. Photographers captured the two of them walking into the Lindo Wing at St. Mary's Hospital in London along with their dad, Prince William, looking very proud and happy indeed.
Princess Charlotte played her part as new big sister perfectly, turning to the media and sharing the sweetest little wave before heading inside. Prince George, the seasoned older brother that he is, remained calm and collected as he went to the hospital. After all, it was just a short three years ago that Prince George made the same trek to the Lindo Wing with his dad to meet Princess Charlotte for the first time.
The siblings didn't stick around the hospital for too long, but it sounds like little Louis made quite the impression. A source close to the family reportedly told Us Weekly that the two of them were absolutely taken by their little brother. "George and Charlotte were with the baby for 25 minutes and were very excited to meet their new sibling," the source told the publication.
The family's nanny, Maria, showed up at the hospital after the kids and was there to take them back home and allow Middleton and Prince William to wrap things up at St. Mary's, according to Us Weekly. But the party probably didn't end there. The same source told Us Weekly that the two of them would likely be anxiously awaiting their family at home. "It's unlikely they'll be asleep when William and Kate arrive home. They'll be up all night, excited about their new brother," the source said. Middleton was ready to make her departure a short seven hours after giving birth (yes, really), according to CNN, so Prince George and Princess Charlotte weren't left waiting for the rest of the family to join them at home for too long.
Integrating a new baby into the family isn't all sunshine and rainbows though, so Middleton and Prince William may have their work cut out for them. Feelings of jealousy and sadness, as well as rivalry are completely normal when older children are adjusting to a new baby in the house, according to Baby Center. Fortunately, there is a lot that parents can do to make the adjustment easier like acknowledging children's feelings and talking with them openly about how life is changing.
Princess Charlotte, for her part, is "bonding" well with her new baby brother, according to HuffPost. While Prince George had to head back to school the day after the new baby came home, 2-year-old Charlotte was free to stay at home with mom and baby for a few days.
As he grows up, Prince Louis will have to find his place in the sibling hierarchy. According to the queen, Princess Charlotte is at the top of the pecking order and bosses around her older brother — although I'm sure it's all in good fun. Middleton and family are in for a slew of adjustments with a new baby in the house, but it sounds like Prince George and Princess Charlotte already have the foundation of a wonderful relationship with Prince Louis.
Check out Romper's new video series, Bearing The Motherload, where disagreeing parents from different sides of an issue sit down with a mediator and talk about how to support (and not judge) each other's parenting perspectives. New episodes air Mondays on Facebook.