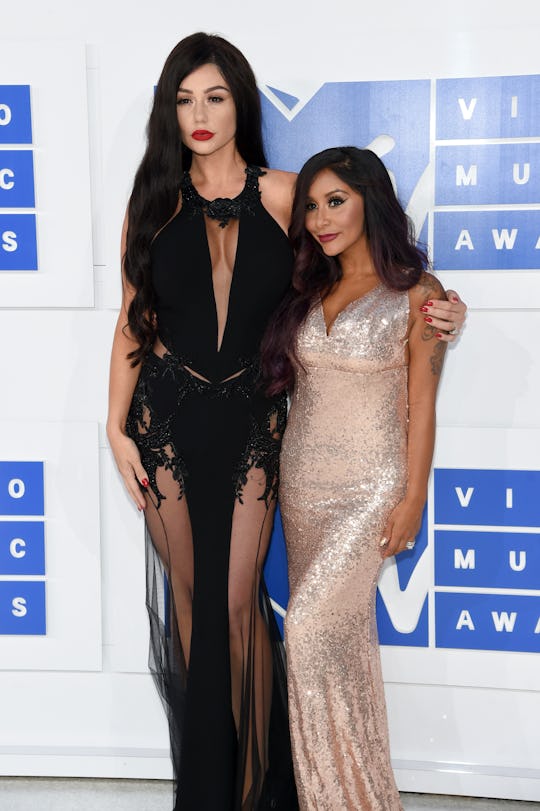 Jamie McCarthy/Getty Images Entertainment/Getty Images
These Photos Of Snooki's & JWoww's Babies Now Will Blow Your Mind
It's been a while since Jersey Shore — that lovable old reality show filled with hair gel, tanning, and fist pumps — ran its last episode five years ago, and life has changed substantially for its leading ladies since then. Fortunately for fans who would like a long overdue catch-up, the cast of Jersey Shore is returning next year with Jersey Shore Family Vacation, which sounds like it just might bring new beaus and kids into the mix in 2018. So just what do Snooki's and JWoww's babies look like now, and what will these young families be doing on MTV's new show?
Nicole "Snooki" Polizzi and Jenni "JWoww" Farley each have two kids, and all four little ones are under 6 years old and adorable. To catch you up, let's start with Snooki, who's been enjoying family life while remaining in the reality TV world. She and her then-fiancé/now-husband Jionni LaValle welcomed their first son, Lorenzo Dominic, in August 2012, followed by daughter Giovanna Marie two years later. Soon after that, LaValle and Snooki officially tied the knot, and Snooki's been sharing pictures of her adorable family ever since.
JWoww has also been keeping up the reality TV life along with a family of her own. She and now-husband Roger Mathews welcomed daughter Meilani Alexandra in 2014, followed by Greyson Valor in 2016, just a few months after her and Mathews' wedding.
Fortunately for fans, both Snooki and JWoww love sharing pictures of their way-too-cute families on Instagram, so you'll be able to better match faces to names on Jersey Shore Family Vacation. (That is if the MTV show even features the Jersey Shore cast's families, of course. Details are still scarce at the moment, but I'm making some assumptions based on the title.)
Christmas Card Pictures With Snooki
Lorenzo seems just slightly bored with this photo shoot — but how cute is this Christmas shot?
Like, He Is Really Not Into It
Poor little Lorenzo. This is the cutest.
JWoww's Son Isn't Feeling The Christmas Magic, Either
Meanwhile, Meilani looks unimpressed by her little brother Greyson's dramatic reaction to Santa.
Meilani Does JWoww's Make-Up
Meilani tackles doing her mom's make-up... but she's totally learned enough from JWoww to realize when she messed the lipstick up.
Snooki's Daughter Looks *Just* Like Her
To be honest, I'm not quite sure which one of these children is baby Snooki and which one is Giovanna.
... & Her Son Is All Grown Up
Okay, maybe not all grown up — but Lorenzo is already five years old. If you only met Snooki's son at the end of the Jersey Shore years, you'll definitely be wondering where the time has gone.
JWoww's Daughter Is All Of Us
"My spirit animal," JWoww captioned this photo. Culturally-appropriative term aside, I think we can all identify with Meilani here.
... & Her Son Already Has Attitude
I can practically hear Greyson saying, "New phone, who dis?"
The Next Generation Of Best Friends
To wrap it up, here's a picture of the next generation of JWoww and Snooki: Meilani and Giovanna. Is your heart melting yet?
If Jersey Shore Family Vacation does bring the whole gang along, expect to get to know your favorite cast in a whole new light. "This is our life now," JWoww told E! News in February. "It's kind of crazy from six, seven years ago. But this is our daily life, our daughters are our No. 1 fans and our No. 1 supporters, and I think it's the best when we get to film with them."
Regardless of whether Jersey Shore Family Vacation brings the stars' entire families out for the fun, you can always keep up with Jwoww and Snooki's adorable families on social media. (Just beware: it might make you feel like time is flying by a little too quickly.)
Check out Romper's new video series, Romper's Doula Diaries:
Watch full episodes of Romper's Doula Diaries on Facebook Watch.