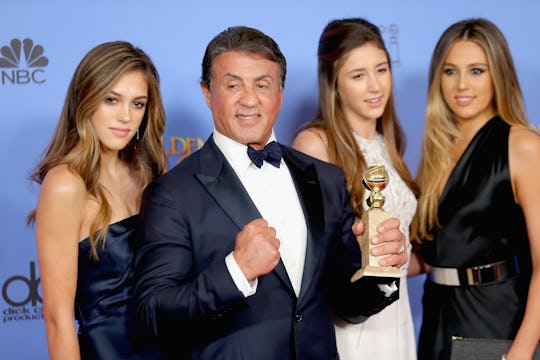 Mark Davis/Getty Images Entertainment/Getty Images
What Do Sylvester Stallone's Kids Do? He's Raised 3 Doting Daughters
Sylvester Stallone has been nominated for a Best Supporting Actor award for this reprisal as Rocky Balboa in the 2015 film, Creed. He's been known to bring his family along with him to red carpet events, including the Creed premiere and at the Golden Globes last month where he took home an award. What do Sly Stallone's kids do? While his daughters get most of the spotlight, Stallone is actually the father of five children — two sons and three daughters — and a known family man. His oldest child and son, Sage Moonblood, died in 2012 of a heart attack at only 36 years old, leaving the action movie star devastated by the loss.
His second oldest child and son, Seargeoh, nicknamed Seth, was born in 1979 and diagnosed with autism when he was three years old. Seargeoh appeared in Rocky II as Rocky Balboa's newborn son, later played by older brother Sage in Rocky V; there have been little to no public updates about Seargeoh since his 1979 film cameo. Both of Stallone's sons were with his first wife, Sasha Czack. Stallone has three daughters with wife Jennifer Flavin, whom he married in 1997. It's obvious he adores his daughters, too, often seen on glamorous outings with his girls all over Hollywood. The Stallone family was at the Saint Laurent show earlier this month, at one of Los Angeles's biggest see-and-be-seen fashion events.
His oldest daughter, 19-year old Sophia Rose, is a student at the University of Southern California in Los Angeles and a member of the Delta Gamma sorority on campus. And yes, despite being the daughter of a famous movie star, she still lives in a dorm and eats in the dining halls, just like her college student peers:
Sistine Rose is Stallone and Flavin's middle daughter, having just turned 17 this past June. Sistine is a model with IMG Models, a lucrative contract she secured when she was 16 years old, following in the footsteps of her modeling mother. Sistine told Teen Vogue in February last year that her mother's modeling career inspired her to do the same: "She's like my wingman. She's taught me my good side, my bad side, how to walk for the runway, and how to become someone else in a certain outfit."
Scarlet Rose, Sly's youngest daughter, turned 13 in May of last year and is presumably up to all those teenage things that 13-year olds do nowadays, like, Snapchatting and homework, I guess? Kids, am I right? And despite a constant paparazzi presence around their family, Scarlet appears to have grown up calm and graceful despite the constant flashbulbs — and you can tell the youngest Stallone girl has daddy wrapped around her finger:
Coming from such a fashionable family that he loves to have on his arm, we can't wait to see what the Stallone family will be wearing at Sunday's Academy Awards.