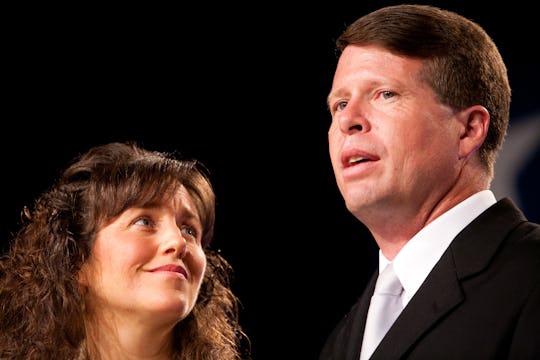 Brendan Hoffman/Getty Images Entertainment/Getty Images
Here's What You Need To Know About The Duggar Family's Homeschooling Curriculum
Despite having nearly every aspect of their world laid bare on TLC's 19 Kids and Counting, sometimes life inside the Duggar family can still feel like a total mystery. There is so much that is foreign to the average American experience, including the way the family's kids are taught and what they do for education. The kids in the ever-expanding family didn't (and don't) attend regular school, so what exactly do the Duggars learn in homeschool and how does it differ from other lesson plans?
Michelle and Jim Bob weren't homeschooled themselves. In fact, according to In Touch Weekly, Michelle was a member of both the gymnastics team and cheerleading at her public school, and reportedly used to hang out with the jocks. But when it came time to put their own kids in school, Michelle and Jim Bob told KLTV in 2011 that they took the words of a Bible verse very literally. In the Book of Deuteronomy, it says to "train up your children when you get up in the morning, when you sit down, walk by the way, and when you go to bed at night, and we really felt like in order to fulfill that command we really wanted to homeschool our children," Jim Bob told KLTV at the time.
Homeschooling has steadily grown in popularity over the last decade or so in the United States. Today the National Home Education Research Institute estimates there are 2.3 million children being educated at home.
Some people choose to homeschool because, like the Duggars, they don't want their kids exposed to certain ideas in mainstream schools. But there are other reasons, too. I live in Nevada, which ranks last in the country for education, according to the Las Vegas Review-Journal, and many parents here may choose homeschooling because they see it as a better educational choice given the other options.
Whatever the logic, there is now almost a dizzying array of curriculum to choose from for parents interested in teaching kids at home. According to the Home School Legal Defense Association, there is no one-size-fits-all teaching system for homeschooling, instead, parents should ask themselves a few questions about their goals, motivations, worldview, and where their child is academically.
As for the Duggars, talking to TLC in 2010, Michelle said their goal was "to do a Christian-based curriculum – one in which there's a lot of character emphasis, character building like responsibility, honest, self-control." She told TLC she uses the A.C.E. curriculum, which stands for Accelerated Christian Education. The company's website says its curriculum "provides students with academics, skill building, reading practice, character and wisdom training and knowledge of God and His word." The curriculum offers math, English, social studies, and science for grades K-12, as well as literature and creative writing for grades 2-8, language for grades K-9, and Bible reading for grades 1-6.
According to HuffPost, they've allegedly been linked to a program called ATI, or Advanced Training Institute, which has, since the Duggars brought it into the mainstream, has faced criticism. While the curriculum also features the basics of reading, writing, and math, everything is looked at from a fundamentalist perspective, according to In Touch Weekly. One woman, writing about her own experience with homeschooling through ATI for Salon, said "the teachings of ATI form an ideological system of practices based on the extremely strict, fundamentalist, and idiosyncratic Biblical interpretations of the organization's founder, Bill Gothard – a man who, in 2014, stepped down as head of ATI following allegations of sexual misconduct with young girls."
The Inquisitr reported in 2017 that one of the curriculum's alleged worksheets, published by Gawker, includes a lesson on "moral failures." According to The Inquisitr, "In the worksheet, the children are asked to discuss what family failings contributed to immodesty and temptation and what the abused children could have done to stop it." As HuffPost reported, some lessons allegedly included in the curriculum "strongly suggests that victims are to blame for their own abuse." As People reported, there is "no evidence the Duggars followed these teachings," but they their "association with the institute is well documented."
As the generation of Duggar kids begins raising their own children, will they stick with what they've known all these years? It's still a little early to say for sisters like Jessa, Jill, and Joy-Anna, but Anna Duggar, who has the oldest children and is married to Josh Duggar, told the Duggar Family Blog in 2015 that she is already starting with different curriculum:
I use Math-U-See for math, and I absolutely love it! Michael is doing the Primer, and Mackynzie is doing the Alpha. It's great because it has the blocks, so they have a hands-on way of learning, and there's a little DVD that comes with it, so they can watch their five-minute lesson and then do their work for the week. It's a great resource for me because I am able to be there as a guide, but I don't have to explain the concepts. I use Sing, Spell, Read,and Write with Mackynzie. She reads the basic words very well. It's fun to see her read little stories to the boys.
Some aspects of the Duggars' homeschooling academics (which we don't know a lot about since the kids don't pursue traditional post-grad education, according to their TLC blog) do cause some concern. But the character building aspects of the kids' education seems to take effect for the Duggars. We'll have to wait and see how things work out with the Counting On crew and their broods.
Check out Romper's new video series, Bearing The Motherload, where disagreeing parents from different sides of an issue sit down with a mediator and talk about how to support (and not judge) each other's parenting perspectives. New episodes air Mondays on Facebook.