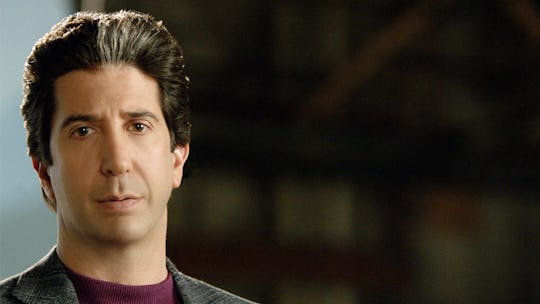 What Do The Kardashians Think Of David Schwimmer As Rob Kardashian In 'American Crime Story'?
It's tough enough keeping up with the Kardashians, let alone portraying them in the television series. But that's the task David Schwimmer faced when he took on the role of Robert Kardashian in FX's upcoming series American Crime Story. As the Feb. 2 premier date draws near, many are wondering if Kardashian's family will tune in and what the Kardashians think of David Schwimmer as Rob Kardashian, the father they loved and lost to cancer in 2003.
For those unfamiliar with the Kardashian connection to the case, the New York Times reported that Rob Kardashian and O.J. Simpson met in the 1970s. The two remained closed throughout the years, and their wives also formed a special bond. Following the death of his wife Nicole Brown in 1994, Simpson stayed in Kardashian's home, which he then fled in his infamous white Bronco. When the case was brought to trial, Kardashian joined Simpson's defense team as an assistant. The Huffington Post also reports that Kardashian allegedly hid evidence that would have convicted Simpson of the murder of Brown and her friend Ronald Goldman, but that has yet to be proven.
Though Kardashian worked with the team to defend Simpson, and eventually received a not-guilty verdict, the attorney had is doubts. In 1996, a year after the trial concluded, Kardashian revealed that he had doubts about Simpson's innocence during a 20/20 interview. Now, more than 20 years later, Schwimmer has to convey that internal struggle between loyalty and doubt for millions of viewers. And I'm sure the harshest critics will be Kardashian's children and ex-wife.
As of now, none of Kardashian's famous children have offered an opinion of Schwimmer's portrayal. Though that could change come premier night when social media is bound to be abuzz with commentary. Khloe Kardashian, however, has said she is interested to see American Crime Story, especially since there are a few scenes featuring 1990s' versions of the Kardashian kids.
"I would like to see it," she told Entertainment Weekly. "However they want to portray us is fine." She added that her mother Kris Jenner became very invested in the film, and even help Schwimmer with his character development.
Schwimmer confirmed that info with People, saying that Jenner guided him though the role of Robert.
"Kris was really, really generous with her time," he said. "It was really great to learn about how much a man of faith he was and how loyal and considerate he was. He was a very humble, very private person. Not at all seeking the limelight, that was inadvertent."
Let's hope Schwimmer's preparation pays off , and that he can wow viewers and Kardashians alike.