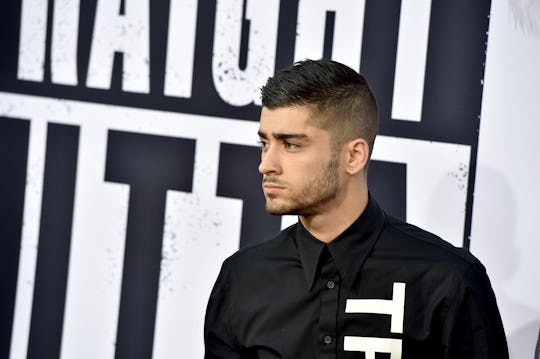 Kevin Winter/Getty Images Entertainment
What Do The Lyrics of Zayn Malik's "Pillowtalk" Mean? The One Directioner is All Grown Up
Previous One Direction star Zayn Malik released his first single at midnight on Thursday, and it's definitely a departure from the sugarcoated One Direction songs he used to be a part of. The video for "Pillowtalk" features his girlfriend — ahem, sorry, "good friend" — model Gigi Hadid, along with a second girl (with daggers shooting out of her face), bloody tears, and plenty of sexy innuendos. Basically, the video is one big reminder that Malik has torn away from his boy band pop days and gone in an entirely new, less-PG direction. But if you ignore the video itself, what do the lyrics of "Pillowtalk" mean? What I'm getting from it is that Malik's into talking about sex.
"Everybody has sex, and it's something people wanna hear about. It's part of everybody's life, a very big part of life! And you don't wanna sweep it under the carpet. It has to be talked about," Malik told The Sunday Times recently when speaking of his upcoming solo. And talk he is: according to The Telegraph — which called Pillowtalk "an x-rated ode to Gigi Hadid" — Malik wrote the song himself, and the lyrics are pretty thinly veiled when it comes to meanings. Malik sings about "A place that is so pure, so dirty, and raw," annoying the neighbors, being "in the bed all day, bed all day, bed all day," and "F*cking you, and fighting on." It sounds pretty average for a 23-year-old pop star waving his grown-up flag. But the vocals and beat are nice, and I have a feeling I'll be hearing this playing in the background the next time I'm out — although perhaps with a few of the lyrics switched out for a more radio-friendly version.
The song hasn't only gained attention for its lyrics — fans were freaking out and saying it's finally proof of a relationship between Malik and Hadid, although Malik recently said they were "good friends" during a Beats 1 interview. They could totally be good friends that cuddle on flights together. And wear necklaces with each other's initials on them. And make out with each other in music videos. Or they could be in a relationship. Either way, you know fans will be discussing it all day long.
Either way, Malik is a mastermind for putting Hadid in his video. If Malik wanted to jumpstart his solo musician career as quickly as possible, this was the best way to do it — fans would likely be tuning in anyway, but making a sexy music video starring are-they-aren't-they, will-they-won't-they Hadid pretty much guaranteed that it would blow up. Here's a hat tip to you, Malik!