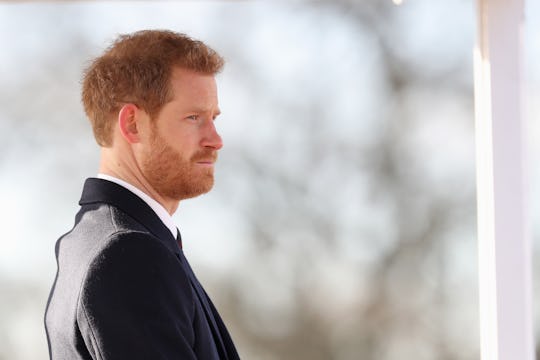 Chris Jackson/Getty Images Entertainment/Getty Images
Here's The Meaning Of The Medals On Prince Harry's Suit At The Royal Wedding
Leading up to the royal wedding, all that anyone could talk about was what Meghan Markle would show up wearing to the ceremony at St. George's Chapel — and rightfully so, her wedding dress did not disappoint. But it was a little unfair to leave Prince Harry out of the outfit talk. After all, he played a major part in the royal wedding, too (which an understatement). If people were able to peel their eyes away from Markle's dress at any point during the ceremony, then they might be wondering what the medals on Prince Harry's suit meant — because if the medals are out at the royal wedding, then they must have some significance, right?
Of course they do. Prince Harry isn't just a prince — he spent 10 years serving in the military, according to the The Sun, and has even served in Afghanistan, which is quite an accomplishment. Of course, after spending so much time devoting his life and service to his country, Prince Harry would want to show those accomplishments off at his own wedding, which is exactly why his medals are present, according to the Independent. Not only this, but it is tradition for "royal grooms to marry in military dress," according to TIME.
But those medals are not just for show, according to the Telegraph — each medal has some significance.
Prince Harry is currently a Captain in the Household Calvary, according to The Telegraph — and the wings above the medals represent his time spent in the Army Air Corps. The three individual medals on his lapel, however are for the Queen's Golden Jubilee and the Queen's Diamond Jubilee — which means that he served during the time that his grandmother, Queen Elizabeth II celebrated her 50th and 60th year on the throne, according to CNN. His last and final medal on his lapel represents his time served in Afghanistan on the frontline (Prince Harry spent two tours there, according to the official website of the Royal Family). While this might seem like a lot, if you had accomplished all of this, you would be proud too, right?
But in June 2015, according to TODAY, Prince Harry's service in the military came to an end. "The prince has had a fulfilling military career and considers it to be a huge honor to have served his country in the Armed Forces," Kensington Palace said in a statement at the time. But Prince Harry didn't actually retire from working altogether — at the time, Prince Harry said he wanted to retire to spend "more time helping wounded service members, battling AIDS, and working with other charities," according to TODAY.
Prince Harry's brother, Prince William, wore a similar outfit decked out in his own personal medals that represented his time spent in the military when he married his wife, Kate Middleton, in 2011. But instead of wearing his traditional Royal Air Force uniform, according to TIME, Prince William surprised people by wearing the uniform of the Irish Guards, where he holds the honorary rank of Colonel. In spite of choosing the red uniform over black, Prince William still wore all of his medals which represented his own accomplishments in the military.
While Prince Harry did marry in uniform, some speculated that he might not, because of his beard. Yes, his beard. Tradition states that the British Army does not allow beards "unless there are exceptional circumstances," according to the Independent and the last time people saw Prince Harry before the wedding, he was sporting a full beard. Because the British Army doesn't allow people to have beards, some people feared that he wouldn't be able to wear his uniform to his own wedding. But that clearly wasn't the case. Prince Harry looked equally as stunning as Markle at their wedding and his medals definitely stood out on his uniform.