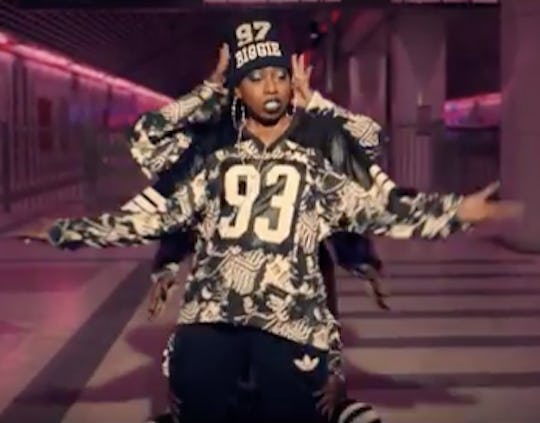 Atlantic Records/YouTube
What Do The Missy Elliott "WTF" Lyrics Mean? Missy Elliott's New Single Has Everyone Talking
It's been a long time since we've heard from the rapper/lyric prophet/queen that is Missy Eilliott. Seven long years, to be exact. And man, have we missed her. But today, the wait was finally over: The rapper just dropped a new video, featuring her brand new single "WTF," and let's just say Twitter can't get enough of it; or deciphering the meaning behind it. So just what are the meanings of the lyrics to Elliott's "WTF" single? It depends on who you ask.
For starters, the title itself doesn't exactly mean what you think — "WTF" actually stands for "Where They From," according to Rolling Stone. And while the mag calls the accompanying "WTF" video "futuristic," it looks pure retro to me — but in the best way possible, complete with hammer pants, sequins, and blue lipstick. Or, maybe more accurately, it looks pure Missy.
The last song we heard from Missy was back in 2008, when she dropped the single "9th Inning" with Timbaland. And yea, that one was good. But this time around, Elliott teamed up with Pharrell, so you know it's catchy as hell. Of course, as every Missy fan knows she doesn't rap without a message. Taking a closer look at the lyrics, much of the Twitterverse noted today that it sure seems like Elliot is taking a not-so-subtle call out of a certain singer we know — Miley Cyrus. Here's the hook:
The dance you doing is dumb/ How they do where you from/ Stickin' out your tongue girl/But you know you're too young/ A bunch of girls do it and the shit looks fun/ That's how they do it where we from/You know it don't start till one/ That's how they do it where they from​
Man, Missy doesn't hold back. But hey, we already knew that. And while it's not yet clear whether or not Elliott is in fact alluding to Miley with the whole "stickin' out your tongue, girl" lyrics... it sure seems like it to some.
The possible dig at Cyrus would make sense, when you think about it. After all, the singer has been called out before for cultural appropriation. She was heavily criticized in 2013 when she twerked all over the VMA stage, using black women as props. Cyrus also sported dreadlocks to the same show just this year, which drew her tons of backlash.
But others, like Christina Cauterucci over at Slate deciphered the lyrics to be less about dissing anyone in particular, and more about defending them:
I interpreted the 'WTF' hook as a sardonic response to haters who tell young girls they're too young and dumb to hang in circles of power, whether it be a dance crew or the upper echelons of hip-hop.
But even if "WTF" isn't about Miley in particular, it seems pretty clear it's gotten people to talk either way — and is swiftly on its way to becoming the latest song we just can't get out of our heads. Her collab with Pharrell may seem kinda slow-tempoed at first (he's already getting some criticism for his "slow" verse), but come on; you know it's good. Either way, I'm just glad Missy is back.
Images: Atlantic Records/Youtube